Saint Archer Brewing to Release Line of Hard Ciders
San Diego, CA – Consistent with the quality and excellence that the Saint Archer Brewing brand is known for, we are thrilled to announce the release of our new line of craft hard cider to all Southern California markets this July.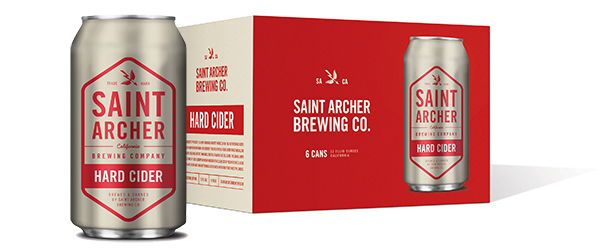 "As a filmmaker, I was extremely fortunate to travel all over the world. During my many visits to Australia and Europe, I developed a love for hard cider due to its great flavor profile and extreme drinkability," said Josh Landan, co-founder and President of Saint Archer Brewing Company. "We had been contemplating making a hard cider for almost a year and simply by chance, the 10,000 square foot building next door to our brewery became available. We moved quickly to secure the space and then carved out an area for our cider production," says Landan.
Head Brewer Kim Brisson-Lutz and Director of Brewing Operations Yiga Miyashiro have spent the past several months extensively researching hard cider production along with sourcing the very best ingredients. Having a wine making background, Brisson-Lutz was able to jump into the cider production process relatively quickly, bringing back memories of her early career making wine at J. Lohr Vineyards. "One of the things that really excited me the most about creating a hard cider is that it's bridging the gap between making beer and wine, bringing me back to my roots. Like beer, you can be extremely creative with cider by using different varieties of apples, pears, and yeast strains. We are excited to become one of the few cider producers in California and can't wait to get started," says Brisson-Lutz.
Initially the company will focus on producing a delicious dry cider that will be available on draft for the first sixty to ninety days with 6pk cans being released shortly thereafter.
Saint Archer Brewing Company was founded on a unique strain of creative talent: World-class brewers, Artists and Musicians, Surfers, Skateboards and Snowboarders; all coming together with passion and commitment to express our collective true love – handcrafted beer. Saint Archer has been a long time in the tank and we hope you taste our appreciation and gratitude in every sip.
www.saintarcherbrewery.com – @saintarcherbrew – facebook