Rogue Nation Barley Farm Takes Root

The Rogue Nation Department of Agriculture has planted 122 acres of winter malting barley near Tygh Valley, Ore.
Rogue has entered into a strategic alliance with Dr. Bill McAllister to grow malting barley for Rogue Ales and Rogue Spirits. Together with Rogue Farms' own hops from its hop yard in Independence, Ore., proprietary Pacman yeast from Wyeast Labs in Odell, Ore. and free range coastal water, Rogue will brew an all-Oregon ingredient Sesquicentennial Ale in 2009 to celebrate the state's 150th birthday.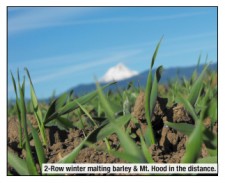 In addition to the 122 acres of winter barley, McAllister and neighbor Scott Laney will plant an additional 103 acres of spring malting barley. The result will be a summer harvest of nearly 500,000 pounds of barley, which will be malted at Great Western Malting.
The barley fields are located throughout the sprawling 2,400-acre McAllister Ranch, which sits on the east side of Mt. Hood, about 30 miles south of The Dalles within view of the historic Barlow Trail. McAllister, a Portland surgeon who never outgrew his South Dakota farming roots, also grows apples, pears, cherries, blueberries, plums, rye, hay and wine grapes. He has also replanted many species of native plants to create wildlife habitat for deer, coyotes, rabbits, wild turkeys and raptors. A series of ponds provide water for irrigating crops and serve as way stations for migratory waterfowl.
McAllister and Laney have set about "Rogueifying" the area around the barley fields. They have set a large boulder, excavated while preparing one field, on the roadside, proclaiming it "Rogue Rock." A few yards away, "Rogue Pond" empties into "The Little Rogue River." Other boulders unearthed during field work will be arranged into "Roguehenge."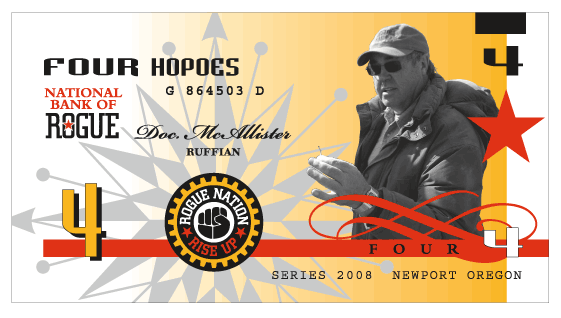 The Rogue Nation Postal Service will issue a stamp to commemorate the barley farm, the Department of Energy is placing a webcam on site so Rogues worldwide can check the crop's progress and the Rogue Nation Treasury has added a 4 hopoe note with McAllister's picture to its official currency.
Rogue is proud to participate with Oregon Farmers in the growing of the two major agricultural ingredients in beer, connecting the dots between what's in the ground and what's in the glass.
Celebrating its second century, Rogue Ales is an Artisan Varietal Brewery founded in Oregon in 1988, as one of America's first 50 microbreweries. Rogue has 550+ awards for taste and quality and is available nationally and in 20 countries.