Iron Hill – Limited Release – Triple Bock Bottle with 3-D Label for the Holidays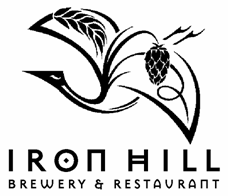 On November 28, the region's most celebrated beer and food destination, Iron Hill Brewery & Restaurant, will release their Triple Bock, a heady, high-alcohol winter brew that is a perfect way to warm up as the weather starts to get cooler. Brewed for a special, limited holiday release of just 1,300 bottles, Triple Bock is the newest addition to Iron Hill's Reserve Bottle Beer line, large bottles designed to drink in the restaurant, take home or for a gift for the beer lover. Triple Bock will be available for sale at all seven Iron Hill locations.
"Triple Bock is a strong, dark lager, a more potent version of a classic German Doppelbock," says Phoenixville Head Brewer Tim Stumpf, who created and brewed the recipe. "We've crafted ours with a smooth, roasted flavor that balances its higher alcohol content and makes it easy to enjoy."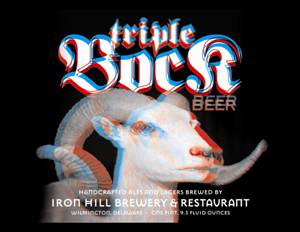 Triple Bock will be sold in 375 mL bottles, at 13.2 % alcohol. Bottles will retail for $12, or $25 with a limited edition Triple Bock t-shirt. Both the beer and the t-shirt will be sold with complimentary 3-D glasses, making them a fanciful and innovative holiday gift for beer lovers.
Triple Bock's eye-catching 3-D label was designed by gifted local graphic artist Jeff Schaller of PinkCow Studio. Schaller also created the signature wall murals at several Iron Hill locations. The label features a long-horned ram, the traditional symbol for Bock style beers, and is meant to be viewed through 3-D glasses that make the ram's horns appear to leap off the bottle.
"This is a special beer, and it deserved a special label," says Iron Hill Director of Brewing Operations Mark Edelson. "Jeff has created some amazing art for us over the years, and we're thrilled to include his spectacular design on our newest bottled beer."
Triple Bock joins other bottled reserve beers available for the holidays, including Abbey Dubbel, Barleywine, Belgian Tripel, The Cannibal, Russian Imperial Stout, Old Ale 2005 and 2007, Fe 10 Anniversary Ale, Quadrupel, Oak-Aged Quadrupel, Wee Heavy, Rauchbier and Saison. In addition, the Old Ale 2008 will be released in December.
Since 1996, Iron Hill Brewery & Restaurant has consistently been recognized for its outstanding beers and cuisine, accruing over 100 "Best of" awards from regional magazines. Their hand-crafted beers have also won acclaim and in total, they have received 39 medals from the three most prestigious beer events, the Great American Beer Festival, World Beer Cup and Real Ale Festival.
Iron Hill Brewery & Restaurant has seven locations: Wilmington, DE; Newark, DE; West Chester, PA; Lancaster, PA; Media, PA; Phoenixville, PA and North Wales, PA. An eighth location is planned for Maple Shade, NJ in early 2009. For more information about Triple Bock or Iron Hill, or to make a reservation at any of their locations, please visit their website at www.ironhillbrewery.com.