River North Brewery's Nightmare Fuel Hits Local Distribution
(Denver,CO) – One of River North's most anticipated releases in recent memory, Nightmare Fuel, will appear on store shelves this week.
A 13.5% ABV imperial stout brewed with fresh-roasted whole bean coffee, Nightmare Fuel combines two of the finest brewed beverages in the universe.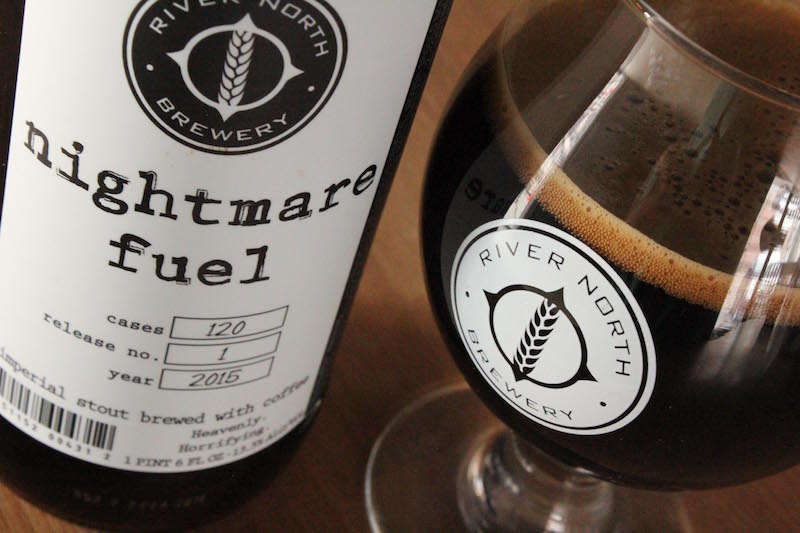 "Given the amount of coffee we drink around here, a java-laden imperial stout has been a long-time coming," Hess said. "We sourced the beans from one of our favorite Denver roasters, Corvus, using three pounds per barrel to craft a true coffee-forward stout."
Bombers of Nightmare Fuel will arrive at fine Colorado bottle shops this week, just in time for Halloween. Coffee notes dominate the aroma, while a robust dark-roast barley base provides balance.
Unlike with other special releases, River North will not host a debut party for Nightmare Fuel, as they are currently without a taproom. The brewery will, however, hold some cases for a loading dock sale at a future date, so fans can come check out the progress of River North's new production facility at 6021 Washington Street Unit A.
Craft beer lovers in Colorado will also see bottles of Funk the Man – the brewery's brett saison series released to commemorate the imminent demolition of their original location for a new apartment development – in stores soon. Finally, in December, the brewery will release the 2015 version of its highest rated beer, Barrel-Aged Avarice.
Matt and Jessica Hess opened the award-winning River North Brewery in February 2012, focusing on Belgian-style and barrel-aged beers. In October 2015, the brewery was ousted from its namesake neighborhood to make way for luxury apartments. River North is currently working to open a new production facility and taproom at 6021 Washington Street, with a separate new RiNo taproom to follow. Named the 2015 Brewery of the Year by the Best of Craft Beer Awards, you can keep up with brewery happenings by following River North on Twitter/Instagram (@rivernorthbrew) and liking the brewery on Facebook (facebook.com/rivernorthbrewery).