River North Brewery Releases Anniversary Ale 4 1/4
(Denver,CO) – When River North's fourth anniversary passed in February, the brewery was still readying its new facility. Now that the Washington Street location is open, it's time for a belated birthday beer.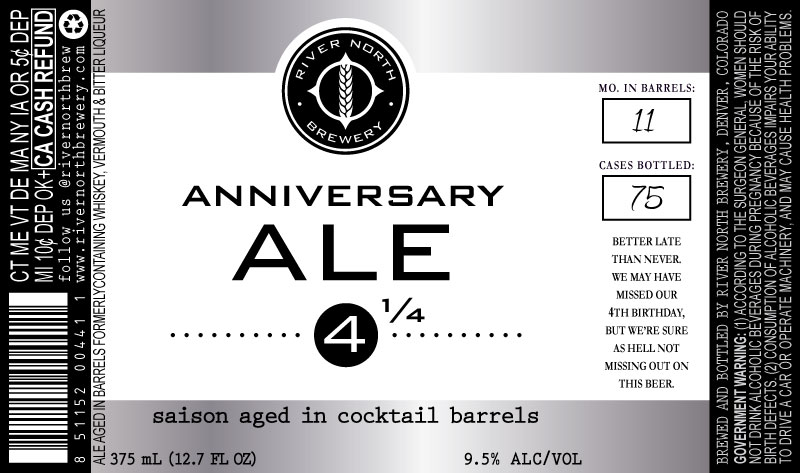 On Friday, May 27th at 4pm, River North will release Anniversary Ale 4 ¼ (say "four-and-a-quarter"), an imperial saison aged in Manhattan cocktail barrels. The anniversary celebration will continue throughout the weekend with food trucks and River North beers both classic and new.
"I can't think of a better way to celebrate our un-birthday," Head Brewer Matt Hess said. "This beer itself has been a year in the making, but the techniques and inspiration behind it represent our entire four-year journey."
River North's first barrel-aged release, in 2012, was an imperial saison aged in whiskey barrels. More recently, the brewery has gained renown for utilizing more exotic barrels – ones that previously held fully-blended classic cocktails, like the Manhattan. Anniversary Ale 4 ¼ marries the two, yielding a beer unlike any you've had before.
Complex and quaffable, Anniversary Ale 4 ¼ is surprisingly light on the tongue, yet rich with notes of rye whiskey and citrus undertones.
River North will have Anniversary Ale 4 ¼ on tap and in 375ml bottles to go throughout the weekend. Bottles will be $10 each. With only 75 cases total, this beer will see limited Colorado distribution. The brewery recommends enjoying a bottle fresh and cellaring another to develop further for years to come.
Anniversary Ale 4 ¼ is the first in a slew of releases from River North's new brewery and taproom. Look for details on 2016 Rum Barrel Quandary, Funk the Man #4, B-Side Avarice and 2016 Whiskey Barrel Quandary soon.
Matt and Jessica Hess opened the award-winning River North Brewery in February 2012, focusing on modern expressions of beloved, classic beer styles.  The brewery was named the 2015 Brewery of the Year by the Best of Craft Beer Awards. Keep up with brewery happenings by following River North on Twitter/Instagram (@rivernorthbrew) and liking the brewery on Facebook (facebook.com/rivernorthbrewery).