Red Cock Doppel Bock Scores Again!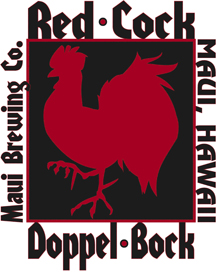 Maui Brewing Co. (MBC) is proud to announce a bronze-medal win for their Red Cock Doppel Bock at this year's Great American Beer Festival (GABF). This entry won in Category 37, German-Style Strong Bock.
"I'm extremely proud of this beer. It's not only one of my favorite styles but to see it win so many times truly validates the skill of our entire brewery staff to produce consistently exceptional beers" comments Garrett, he adds, "…maybe this needs to be in a can?"
Doppel means double, which means this beer is "double complex." Our name is inspired by the proud "Jungle Fowl" of the islands. This is a complex, rich dark lager and noted by intensely rich malt flavors ending with a malty-sweet finish. This beer is traditionally released in March throughout Bavaria, a late winter seasonal.
GABF is the largest national beer competition and recognizes the most outstanding beers produced in the United States today. The top three winners in each of the competition's 75 beer-style categories were announced October 11 at the 27th GABF Awards Ceremony held at the Colorado Convention Center in Denver, Colorado. 2,902 beers from 472 breweries were entered in the competition this year with 46,000 persons attending the three-day festival.
MBC produces genuine Hawaiian beers. Their trio of packaged microbrews are wholly produced and packaged in Lahaina by MBC. Although of course, these are USA products, due to Maui's geographical location, MBC products can actually be considered "imported" to the mainland, especially given the fact that the Hawaiian Islands are the most isolated group of islands on the planet! When you are drinking a MBC microbrew, you are guaranteed that you are enjoying an authentic Hawaiian beer – the only true Hawaiian beers available on the mainland!
With a strong commitment to the local economy, and deep concern for the environment, MBC microbrews are packaged with the most ecologically-friendly materials. Although cans and bottles are both recyclable, bottles still break and may pose a risk at beaches. The cans are manufactured on Oahu and designed by local Maui artists and have the added bonus of protecting the beer in the best possible manner, protecting our beers from both light and oxygen damage which can seriously compromise the taste. Plastic rings are dangerous to marine life and therefore, you will find a recyclable cardboard wrap around the cans. The spent grain from beer production is donated to local ranchers for cattle feed; and any cans damaged in production are donated to the Maui Humane Society. MBC purchased equipment from Maui Land & Pineapple, preserving a piece of Hawaii's canning history.