Quick Update From the Brau Bros'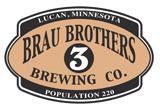 First, it's stayed incredibly busy! With production doubled, we're still struggling to keep up. The addition of Daniel Stavig as a second full-time brewer has been very helpful, and we've been able to catch up on quite a few projects from the wish list, while still increasing output from the brew house.
Our last sixty cases of Hundred Yard Dash shipped on monday. We were very encouraged and excited by the response for the beer, which is the first seasonal we've produced in about two years. We are already looking at how we can improve it for next year, and we're hoping we can squeeze out a few more hops out of the hopyard next year.
We mixed it up a bit this year, and planted rye in the barley patch. We're thinking about edging the rye with pumpkins next spring for a possible fall beer. We'll play around with the idea and see what happens…
Mark Neuzil wrote a great piece on the brewery on Minnpost.com. I especially like the way he properly described the brewery from a beer drinker's perspective, yet managed to detail the importance of the brewery as a business in a small town. I can't emphasize the unique dynamic of operating a brewery in such a small town enough. We're reminded of it every time city-folk drive out for a tour. (which is always encouraged)
With hop harvest behind us, we'll take some time to catch up a bit. We're already working on introducing a new seasonal, probably summer 2011. However, you may see a new regular beer in the lineup before then, details to follow.
I know I'm forgetting a bunch, but I'll keep it relatively short.
Take care, and thanks for supporting the brewery!
Dustin