Port Brewing Introduces New Logo & Re-Branded Website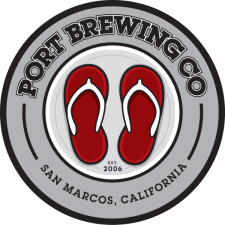 San Marcos, CA – Opening its doors in 2006, Port Brewing Co.'s purpose was to create exceptional West Coast driven ales and lagers to counter-balance the Belgian-inspired portfolio of its sister brand, The Lost Abbey. Eight years later, Port Brewing continues to produce award-winning beer but will change up its original branding of a "port hole" and "pint glass", to a recognizable icon seen on beaches worldwide, the flip-flop.
The new brand direction, designed by Varnish Studios in conjunction with GRID Design + Technology, helps portray the brand as not so much a San Diego-Only beer, but creates a universal symbol for relaxing with a cold beer by incorporating the well-recognized footwear. Focusing on the flip-flop helps emphasize the brand as it was intended, Laid Back but Hop Forward™.
"I'd argue that Port has some of the most recognizable tap handles in the market, and when I started digging into the new branding overall, I thought it really important to stay true to Port's coastal roots and that iconic flip-flop image." Matt Varnish of Varnish Studios said. "With our brand refresh, we believe we've made Port Brewing stand out visually, and backed up that visual impact with an easy-to-consume, functional and aesthetically pleasing website design as well"
The decision to use Varnish Studios along with GRID Design + Technology was an easy one since Port Brewing Co first teamed up for The Lost Abbey Ultimate Box Set. The release of the new logo will coincide with the debut of the newly launched Portbrewing.com. Both GRID and Varnish were integral in the design of the new website, capturing the essence of the new brand character.
"We've been using the Flip-Flop tap handles to brand our draft beer for the past 7 years" said Tomme Arthur Director of Brewery Operations for Port Brewing. "Adding these icons to everything from our new website all the way down to our bottle caps makes perfect sense."
The design on both the bottles and packaging will be slowly integrated to include the new logo.
About Port Brewing / The Lost Abbey
Founded in 2006, Port Brewing and The Lost Abbey produce an extensive line-up of continental and American- inspired ales and lagers. Under the direction of visionary brewmaster and co-founder Tomme Arthur, the brewery has garnered dozens of awards in its seven-year history including the 2007 Great American Beer Festival Small Brewery of the Year, The 2008 world Beer Cup Champion Small Brewery and the 2013 Champion Brewery at the San Diego International Beer Festival. The company's beers, many of which are aged in oak barrels for 12 months or longer, are universally recognized for their complexity, unique flavors and bold boundary-pushing styles.
www.portbrewing.com – @lostabbey – facebook