Philly Beer Week – Dock Street Collaborates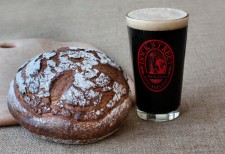 Philadelphia, June 1, 2010- Well known artisans and Philadelphia legends, Dock Street Brewery and Metropolitan Bakery, join their passions for two old world crafts to create the "Man Full of Trouble Dock Street Porter Bread" and "Man Full of Trouble Dock Street Porter Popcorn," which will debut at this year's Philly Beer Week June 4th through 13th.
With the concept of "bread infused with 'liquid-bread" in mind, Dock Street reached out to the Metropolitan Bakery, Philadelphia's renowned artisan bread makers. Immediately they shared Dock Street's enthusiasm and proposed a beer-infused, hearty rye bread and a beer- infused popcorn. The rich chocolate notes and espresso like astringency of the black malts shine in combination with the tangy rye dough. With a crackling crust and pillowy soft crumb, or inside, this complex rustic creation makes it clear that beer and bread are intimately and deliciously related. Those same qualities of the Porter also meld perfectly in the rich buttery caramel flavor of the Man Full of Trouble Dock Street Porter popcorn.
The collaboration between Dock Street's Head Brewer Ben Potts and Metropolitan Bakery Co-Founder and Head Baker James Barretts is a true celebration of the local Philadelphia tradition of quality, craftsmanship, and passion for making great products. 'We are extremely proud to announce this beer-centric, truly artisanal relationship just in time for Philly Beer Week,' says Dock Street's Rosemarie Certo.
The Man Full of Trouble bread and popcorn will be featured in the Dock Street Brewery Beer Tasting Seminar on June 7th during Philly Beer Week. Imagine- liquid bread meets baked bread, paired with a viciously sapid porter. Both creations will be on sale at Dock Street Brewery and select Metropolitan Bakery locations during PBW (June 4th-13th). Cheers!
Dock Street has also added 2 more Philly Beer Week Events!
**Extreme HomeBrew Competition with Sam Calagione and George and Nancy Hummel @ Jose Pistola's- Wednesday June 9th
7:00pm
Where? Jose Pistola's
Sample and judge some of the wildest beers that Philly homebrewers have to offer along with commercial beers from brewers with homebrewing roots. Dock Street Pimp My Rye and Brewer Ben Potts will be in the house!
**Beer Tasting with the Foodery @ Supper- Thursday June 10th
7:00pm
Where? Supper
Featuring a firkin of Dock Street Barrel-aged Vatted Porter