Perrin Brewing Announces Over 92% Growth from Last Year
(Comstock Park, MI) – Perrin Brewing of Comstock Park, Michigan began crafting high quality and consistent beer in May 2012. The strong growth continued from 2015 to 2016 and has exceeded a 92% increase in year-to-year brewery production. Perrin currently ranks number one in the country for new craft breweries overall package sales and is at the current pace to be the 4th largest brewery in volume in Michigan by the end of 2016.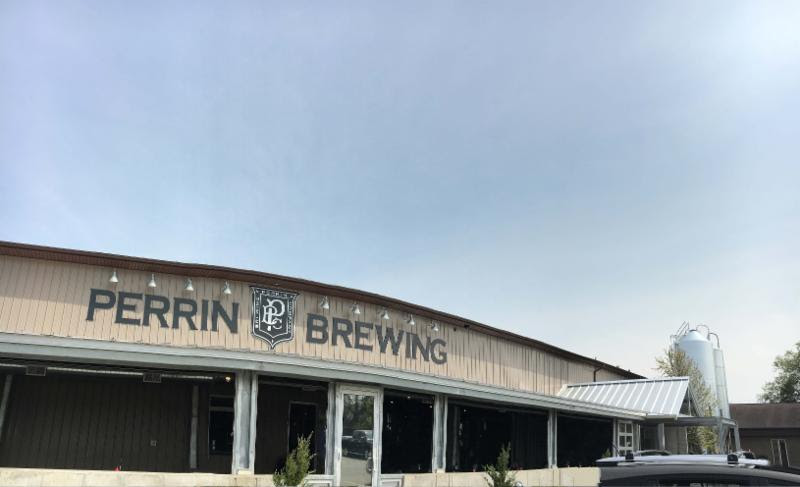 Perrin's growth was started as a result of signing with West Side Beer Distributing as the initial wholesaler to foster over 10,000 barrels and 700 draft lines in Michigan by 2014.
The ultimate collaboration with Oskar Blues Brewery of Longmont, Colorado in 2015 introduced Perrin to canned craft beer. After immediately investing over $1 million in canning line, tanks, centerfuge, and equipment upgrades Perrin finished the year of 2015 at 14,004 barrels, a 45% increase in sales from the previous year.
"This partnership is a radical thing; we at Oskar Blues love the Michigan craft (beer) scene and what the guys at Perrin are doing. We feel that Perrin and Oskar Blues have the same mindset towards the craft industry and this partnership continues to allow us to share information and supplies with one another." said Dale Katechis, Oskar Blues soul-founder and first person to can craft beer for product health.
The installation of the canning line allowed for 12oz cans of Perrin year-round core beers to be sold in market distribution. This included Perrin Black, Gold, 98 Problems IPA, and the first original of its kind Grapefruit IPA. Over 2,000 six packs were sold in the first week of launching Grapefruit IPA in Meijer stores in Michigan, ranking the #3 SKU in Meijer craft selection. Perrin Black and 98 Problems were in top ten SKUs in Meijer Michigan stores every week since rollout.
Perrin Black Ale was the #1 new craft can in IRI date nationally, while Black Ale was only available within the state of Michigan.
In addition to the canning line, the most recent Perrin Brewing improvements include 2 additional 150-barrel fermenters, a 90 barrel, a 30 barrel, and 150 barrel bright tanks, and a packaging system for 12 and 15-packs that has added to the revenue and volume increase. The brewery has expanded to out-of-state markets for the first time including Colorado, Indiana, and Ohio. Since these installation improvements Perrin's capacity increased to 35,000 barrels and is on pace to sell between 28,000 – 30,000 barrels this year. Additional tanks will build Perrin capacity to 55,000+ barrels by the end of the year.
The Perrin liquid was recognized and awarded for several of the brews in 2016. The brewers took home a Gold for Q-Stew Light Lager, Silver for Cherry Capital Sour, and Bronze for NO RULES at US Open Beer Championship. At World Expo of Beer, Perrin received a Silver for Cherry Capital Sour and Bronze for You Bretta Run.
In the late spring of 2015, Perrin's "NO RULES", Vietnamese Imperial Porter was rated as one of the World's Top New Beer Releases out of over 65,000 beers by RateBeer and #1 Winter Sipping Brew by Draft Magazine. Brewed with coconut, cinnamon, and turdinado sugar the flavor is super smooth with bourbon and vanilla notes coming in at 15% ABV. Released in spring of 2016, over 5,000 "NO RULES" bottles were sold out within an hour and a half of opening at Perrin Pub. Following the same tier as the world renowned NO RULES is "Unfinished Business", a Japanese Emperor Stout rolling in at 13.1% ABV. The dark bourbon characteristics add warm caramel, ripe tobacco and a soothing boozy finish to this velvety Stout. "Unfinished Business" will be released the same day as Perrin anniversary party.
On September, 17, 2016 Perrin will be celebrating Nuclear Noize 4th anniversary party with music, beer, food trucks, and a special release of "Nuclear NO RULES", the first original batch of "NO RULES" placed into six new bourbon barrels with the final product ending in a 20% ABV porter. There are several outdoor games, local vendors, cigar rolling lounge, and the annual cornhole tournament occurring throughout the day.
The most recent addition to Perrin's packaging line is two 15-packs offering styles of Perrin Gold Ale and No Problems "A Session IPA". Perrin Gold is a light, crisp, and subtly sweet golden ale made with the session-able beer drinker in mind. As one of the first beers crafted at the brewery, it quickly became a popular style because of the gateway characteristics it embodies. Perrin is excited to offer one of our starting core beers for the first time in 15-packs. The "Session IPA" No Problems has been one of the fastest growing brands in Perrin's current portfolio and will hopefully continue to grow with the new addition of 15-packs. No Problems bursts open with aromatics of fresh citrus fruits, ripened melon, and a distinctive floral bouquet. Under the hop bitterness lies a light, semi-sweet malt body, that finishes in a crisp n' clean fashion. At Perrin 'no problems' is more than a beer, it's a way of life. The Perrin No Problems Pack video series captures the brewers 'no problems' state of mind aside from brewing great beer. From crushing cans, ultimate beer runs, and climbing barrel tanks these brewers are far from ordinary. Stay tuned for the release of more No Problems Pack brewer video segments.
ABOUT PERRIN BREWING COMPANY
Founded in 2012, Perrin Brewing Company out of Comstock Park, MI has experienced significant growth over the past few years. In 2015, Perrin Brewing produced over 14,000 barrels, a 40% increase from 2014. Through the Perrin/Klopcic/Oskar Blues ownership team, Perrin Brewing has launched package offerings and out-of-state distribution. Perrin Brewing anticipates to brew over 27,500 barrels in 2016.