Cape May Brewing Releases The Skeg Saturday Sept. 3rd
(Cape May, NJ)  – Cape May Brewing Company is continuing their journey in their much-anticipated Barrel Aged Series of sour brews. Over two years in the making, the second limited release of the series — The Skeg — is available Saturday, September 3rd at 11am in their gift shop, The Brewtique, at 1288 Hornet Road in Cape May.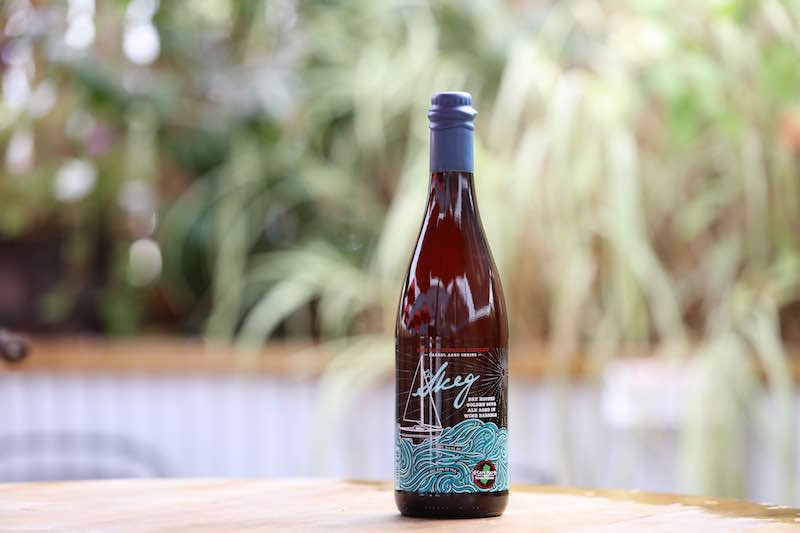 "We're breaking new ground with the Barrel Aged Series," says president and co-owner Ryan Krill. "This series of barrel-aged sour brews is something we've never tried before, and waiting two years for the result has been full of anticipation."
This is the second release in the Barrel Aged Series. The first iteration, The Keel, was enormously well-received. However, where The Keel was a Flander's Red/Oude Bruin style, The Skeg started as a batch of CMBC's flagship double IPA, Coastal Evacuation. It was aged in red wine barrels, then, after the aging process, it was dry-hopped with a generous helping of Amarillo hops, creating a barrel-aged sour IPA coming in at an 8.8% ABV.
The result is more woodsy notes and a less vinous character with a pale golden straw color, firm bitterness, exotic and funky Brett-influenced esters, and an incredible nose of mango and tropical fruits. The tartness of the sour plays off the estery character and rounds off with a gentle hoppiness, highlighting how much variation there is to be had in the barrel aging process.
The Barrel Aged Series is the brainchild of Head Brewer Brian Hink. After hounding the owners for several years to begin a series of sour brews, they finally relented and allowed Hink the chance to explore his sour side. Everyone at the brewery was enormously pleased with the first release, and CMBC anticipates that this brew will be a worthy sequel.
"This beer is an enigma wrapped in a bottle — really, it has something for everyone," Hink says. "I can see a die-hard hop head enjoying the heck out of this beer, Belgian and farmhouse drinkers getting down with it, obvious sour beer drinkers and beer geeks who make me look like a novice will love it, and I can really see the uninitiated appreciating the complexity the Skeg brings to the table."
Director of Brewing Operations Jimmy Valm really likes how light and crisp this beer is: "the hoppiness really plays well with the dryness. The woodsy character really comes through on the finish, just to remind you that this beer had a long way to go to get where it is now."
"When I first started working at CMBC," he tells us, "our most adventurous beer was our Centennial IPA, which has since evolved into Coastal Evacuation and Devil's Reach. Two incredible beers and two of our most popular, but hardly groundbreaking in today's beer landscape. That was what we had to do at the time though, the craft beer landscape wasn't exactly flourishing in South Jersey back then — but as we've grown more adventurous, our consumer's palettes have continued to develop and grow with us. The fact that we can release a beer of The Keel's complexity — hands down our most adventurous beer yet, not only receiving high praise, but also selling extremely well and is now becoming sought after — that excites me more than anything and makes me so excited to see where our loyal fan base follows us to next."
"We set the bar pretty high for ourselves with The Keel," Valm says. "But that's one of the things I love about this industry — especially with sour and wild beers — we are always being pushed and pushing ourselves to do better and come out with more amazing beers!"
Hink agrees. "The success of The Keel has encouraged us to push harder and explore deeper into the world of sour beers."
The Skeg will be released in limited quantities from CMBC's gift shop, The Brewtique, at 11am on September 3rd at 1288 Hornet Road in Cape May. Limit three to a customer. For more information, call (609) 849-9933 or see capemaybrewery.com.
###
About Cape May Brewing Company: Once upon a time, twenty-something Ryan Krill earned a six-figure salary working in finance and real estate development in Manhattan, while his college roommate, Chris Henke, designed satellites. During a summer weekend at the Jersey shore, they brewed a batch of beer with Ryan's dad that wasn't half bad. "Should we open a brewery?" Ryan asked, only half-serious. But, by the following year, the three guys had secured a space at Cape May Airport where they concocted a makeshift brew system and honed their beer-making skills. In 2011, they started with one client. Today, there are hundreds of accounts in Jersey and Pennsylvania proudly serving the guys' award-winning recipes. And CMBC's fearless leaders have never looked back.