Oskar Blues Brewery Partners Up with Auburn University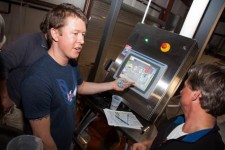 Longmont, CO/Brevard, NC/Auburn, AL – Oskar Blues Brewery and Auburn University have forged a historic partnership to create a new graduate-level certificate in Brewing Science and Operations. Dale Katechis, founder of Oskar Blues, is a legacy alumnus of Auburn. Dale, his dad, and his older brother all matriculated at the Alabama university.
"It feels really special to be creating this brewing science program in the place where I brewed my first batch of home brew," Dale said. "It's like coming home." Dale's first ever beer, which would eventually become the award-winning, best-selling Dale's Pale Ale, was brewed in a bathtub during his time at Auburn.
Martin O'Neill, head of the Department of Nutrition, Dietetics and Hospitality Management in the College of Human Sciences, expects the university and state to benefit greatly from addressing the popularity of craft brewing across the Southeast and the country.
"The interest in craft brewing is exploding right now, much like the wine industry," he said. "Tourism is even being linked to beer breweries because of a growing demand for better beer by a better traveled public."
According to the Brewer's Association, craft brewers provide more than 100,000 jobs in the U.S. and the industry is growing by double digits each year.
Up until now, students and professionals interested in learning about the science of brewing and best operations had to travel to California, Chicago or overseas.
"Our program is designed to provide people, who already have a bachelor's degree and an interest in brewing, with the necessary educational background to develop their skill base and upon graduation, to sit for the professional certification exams with the industry's lead certification agency, the Institute of Brewing and Distilling," Martin said.
The new program is a collaborative effort between the Department of Nutrition, Dietetics and Hospitality Management and the colleges of veterinary medicine, business, and agriculture at Auburn. Courses cover topics such as soils, malting, mashing, fermentation, brewing, business and beverages.
While courses are offered entirely online, Martin said teaming up with one of the nation's leading craft breweries will bridge the gap between traditional online learning and the real world of brewing. Noah Tuttle, head brewer at Oskar Blues North Carolina brewery, is helping develop the brew science teaching team curriculum. "We want to offer the practical, hands-on side of brewing. They need real experienced brewers to make the program successful," he said. "Part of the plan will be to offer students a three-day intensive training at the brewery."
The doors of Oskar Blues will be open always in order to expose students to best brewing practices, as well as to the brewery's unique and innovative business approach.
Since January 2013, Oskar Blues Brewery has partnered with Blue Ridge Community College on a series of brewing courses that include extensive hands-on in-brewery learning, and cover all aspects of the business. Five current employees of the brewery were hired after completing one of the Blue Ridge Brew School classes.
The idea behind the brewing certificate at Auburn isn't to promote craft brewing among undergraduates – in fact they can't even enroll in the courses – but Martin said it's rather to teach commercial beer brewers and others interested in joining the growing business sector how to develop higher quality products and how to market and distribute them successfully.
The course will be ready to roll out by the fall of 2014.
"When I look five years down the road, I see this as the premiere brewing school in the nation," Noah said.
Dale and Noah are visiting Auburn this week for the first home game of the season. Here's what they'll be up to:
FRIDAY PRE-GAME ON 8/30
Join the Oskar Blues crew on Friday at The Hound from 7 to 9 p.m. for 19.2 stovepipe cans of Dale's Pale Ale and Mama's Little Yella Pils on the patio and several OB drafts at the main bar.
SATURDAY MAIN EVENT ON 8/31
Dale and the Oskar Blues crew will be tailgating under Oskar Blues tents next to Spidle Hall on Mell St. They'll be cooking up beer can chicken and handing out Oskar Blues swag.
About Oskar Blues Brewery
Founded by Dale Katechis in 1997 as a brewpub and grill, Oskar Blues Brewery launched its craft-brewed beer canning operations in 2002 in Lyons, Colo. It was the first American craft brewery to brew and can its beer. Today there are more than 200 craft breweries canning beer. The original crew used a hand-canning line on a tabletop machine that sealed one can at a time. Oskar Blues Brewery in Longmont packaged 59,000 in 2011 and grew to 85,750 in 2012 while opening an additional brewery in Brevard, NC, in late 2012.
http://www.facebook.com/OskarBluesCans
http://www.facebook.com/OskarBluesBrewerySoutheast
http://www.youtube.com/oskarbluescans
Watch Oskar Blues Brewery's new video HERE via YouTube.