Deschutes Brewery Jubelale Returns Next Month With Art By Avlis Leumas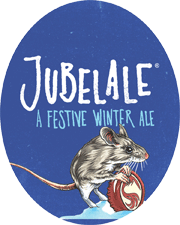 Bend, OR – When the crispness of fall starts to fill the air, Deschutes Brewery's Jubelale starts to show up on shelves and tap handles. Dark and malty, layered flavors unwrap to reveal chicory and earth notes and a hoppy kick to finish. Each year, a different local artist creates an original piece of work to grace the label and packaging of Jubelale. For 2013, Bend, Oregon artist Avlis Leumas created a mysterious owl perched along a wintery Deschutes River.
Deschutes Brewery's festive winter ale to start hitting shelves next month featuring artwork by Bend, Oregon's Avlis Leumas
"It's an incredible honor to join the ranks of a group of artists I have admired for so many years. The great thing about creating Jubelale art is that, because each piece is so uniquely brilliant and diverse from the next, the only thing you have to do is be yourself," said Leumas. "My goal with this piece, which is titled 'Lost in the Loud', was to create balance with opposites: as serene and quiet as the piece is, there is movement and activity everywhere."
At the time that Leumas created the piece, there was an owl living in Farewell Bend Park along the river in Bend who had become a bit of a local celebrity through social media and photographs. Leumas wanted to tell the story of the owl by loading the artwork with landmarks, while weaving in history and metaphor. He wanted people to look at the label and get lost in the story, just like they get lost in the complex flavors of Jubelale each fall and winter.
This year marks the 26th bottling of Jubelale, the first brew that Deschutes Brewery ever bottled. For 19 of those years, a different local or regional artist has been chosen to create original artwork for the label. This "winter warmer" is a well-balanced favorite for the holiday season. Jubelale will be available in all 21 states where Deschutes Brewery beer is sold, starting in September. 6.7% Alcohol by Volume (ABV); 60 IBUs; 12-ounce bottles and draft.
About Deschutes Brewery
Celebrating its 25th anniversary this year, Deschutes Brewery began as a brew pub in downtown Bend, Oregon and is known for such brands as Black Butte Porter, its flagship brew and the nation's number one selling craft porter, and the popular Mirror Pond Pale Ale. In addition to its original Bend pub, this family and employee-owned brewery opened a second pub in Portland's Pearl District in 2008. The company's main brewing facility is located on the banks of the Deschutes River and produces over 250,000 barrels of beer annually for distribution in 21 states and two provinces. Deschutes Brewery was named one of America's Best Places to Work in 2013 by Outside Magazine.
www.DeschutesBrewery.com – @DeschutesBeer – facebook