Oskar Blues Brewery and Charlotte Motor Speedway Announce Partnership
(Longmont, CO and Brevard, NC)– Oskar Blues Brewery and Charlotte Motor Speedway are bringing craft beer back to the NASCAR center of the universe in 2015. Fast cars and all-American craft beer have teamed up again for this historic partnership that got its start in early 2013.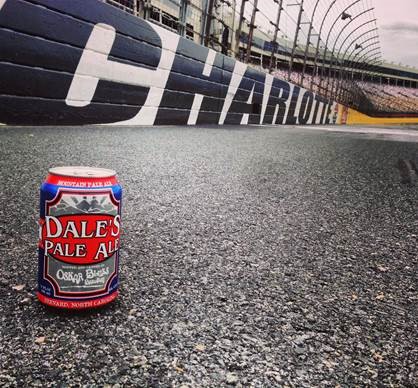 Now Dale's Pale Ale, Mama's Little Yella Pils and Pinner Throwback IPA will be the only craft beers available throughout Charlotte Motor Speedway–at the Super Speedway, The Speedway Club, zMAX Dragway and The Dirt Track at Charlotte– cause craft beer and fast cars go together like moonshiners and lonesome ridge roads.
America's first canned craft beers, brewed in beautiful Brevard, North Carolina, are already winding their way down from the mountains for Speed Week, which kicks off with a roar the week before Memorial Day.
"North Carolina has become a hot bed for great craft beers and Oskar Blues Brewery has been a leader in that movement," says Dan Farrell, senior vice president of corporate sales at Charlotte Motor Speedway. "We have a long history of working with locally-based partners here at Charlotte Motor Speedway and we're thrilled to have a company like Oskar Blues join that growing list."
Oskar Blues' 12-ounce brews will be available year-round at Charlotte Motor Speedway luxurious Speedway Club restaurant and sold at the track during special events, including two Charlotte Auto Fairs and Speedway Christmas–a gigantic Christmas lights festival.
Oskar Blues Brewery will host a special beer pavilion the weekends of May 21-24 (for LiftMaster Pole Night, Charlotte's XFINITY Series 300 and the historic 56th running of the Coca-Cola 600), as well as Oct. 8-10 for Bojangles' Pole Night, The Race for the Cure 300, presented by Blue Cross Blue Shield of North Carolina 300 and Bank of America 500.
"We just like getting after it and being competitive," says Oskar Blues soul founder, Dale Katechis. "Whether it's our complex and challenging beers, the aggressive mountain bikes our bike company (www.reebcycles.com) makes or going to the race track…speed is in our blood."
More than 1 million racing enthusiasts visit the speedway annually, and those folks can become craft beer enthusiasts by grabbing a CAN of Oskar Blues Brewery's voluminously-hopped Dale's Pale Ale, crisp refreshing Mama's Little Yella Pils or the new Pinner Throwback IPA at select Charlotte Motor Speedway concession stands, the Winner's Circle Lounge, Whisky River and in the Fan Zone throughout the year.
The original craft beer-in-a-can remains Charlotte Motor Speedway's first official craft brewery partner.
About Charlotte Motor Speedway
For more than 50 years, Charlotte Motor Speedway has set the standard for motorsports entertainment for fans of all ages.
Charlotte Motor Speedway is the only race vacation destination where fans can immerse themselves in the heart of NASCAR country. Visitors can attend one-of-a-kind race spectacles such as the NASCAR Sprint All-Star Race, the Coca-Cola 600 and the Bank of America 500; take behind-the-scenes speedway and race shop tours; explore the NASCAR Hall of Fame; and drive an 800-horsepower stock car.
Through every event and every decade, Charlotte Motor Speedway puts FANS FIRST with a never-ending commitment to enhance the fan experience. That tradition continues with unmatched value through affordable season tickets, unparalleled prerace entertainment and more opportunities for you to see your favorite drivers.
http://www.charlottemotorspeedway.com
@CLTMotorSpdwy
About Oskar Blues Brewery
Founded as a brewpub by Dale Katechis in 1997, Oskar Blues Brewery launched the craft beer-in-a-can apocalypse in 2002 using a tabletop machine that sealed one can at a time. In 2008, the makers of the top-selling pale ale in ColoRADo, Dale's Pale Ale, moved into a 35,000-square-foot facility in Longmont, ColoRADo. The brewery has since experienced explosive growth–from packaging 59,000 barrels of beer in 2011 to 149,000 barrels in 2014. In December 2012, Oskar Blues opened the doors to an additional brewery in Brevard, North Carolina. Recently, Oskar Blues secured an additional 60,000 square feet at its Colorado location to allow additional production expansion. Oskar Blues now distributes trail-blazing craft brews to 41 U.S. states, Washington, D.C., as well as parts of Canada, Sweden, and the U.K.
http://www.facebook.com/OskarBluesCans
http://www.facebook.com/OskarBluesBrewerySoutheast
http://twitter.com/oskarblues
http://twitter.com/oskarblueswnc
http://www.youtube.com/oskarbluescans