Oskar Blues Bonewagon Food Truck Hits The Streets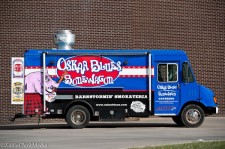 Oskar Blues Southern-Inspired Food Has Wheels, Will Travel
Longmont, CO – Food trucks are all the rage and the Oskar Blues Bonewagon is taking their award winning menu & southern hospitality to the road. The Bonewagon, a barnstormin' smokateria on wheels features a menu of "Rubs" (meats seasoned with Oskar Blues own rub recipes), "Tugs" (a side dish. Not a whole plate, just a tug) and "Morning Chubs" (a chubby breakfast burrito inspired by the Oskar Blues Old Chubway location style fixins') will be traveling to music venues, festivals, and northern Colorado parking lots upon request.
You'll find the Bonewagon regularly rolling-up curbside to the Tasty Weasel Taproom in Longmont on Tuesdays, Wednesdays and Fridays. It will be serving up everything from Oskar Blues' award-winning smoked wings, an Oskar Blues Hops & Heifers Farm Grown Burger made with beef from our spent-grain-and-grass fed cows, and the "Morning Chub" breakfast burrito.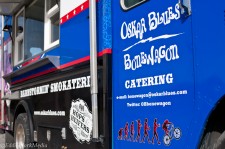 When the Bonewagon isn't spreading the Oskar Blues menu madness outside of the Tasty Weasel Taproom you'll find it out on the road showcasing its Southern-inspired menu for hire. Reserve the Bonewagon for special events and catering via email at [email protected] and keep track of where you can find it via twitter at @OBBonewagon or via www.oskarblues.com
Oskar Blues is unveiling the Bonewagon this Friday, November 18th at the breweries 9th CANniversary celebration at the Tasty Weasel Taproom (1800 Pike Rd, Longmont, Co 80501).  The party kicks off Firkin Friday at 5pm with a Vanilla Café au Chub cask, BrewSkee Ball Tournament featuring 2 lift tickets to Eldora Ski Resort, gift certificates to Oskar Blues' restaurants, Limited amounts of canned 6-packs of HGH Part-DUH to take home, the opportunity to hand-can your own 16 oz. stovepipe can of an Oskar Blues specialty brew, live music by the award winning Johnny O Band, brewery tours, and soulful grub from the Bonewagon.