Odell Brewing Saboteur Brett Barrel Brown Ale Sneak Preview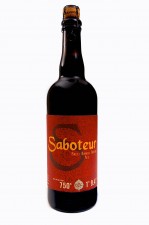 TheFullPint.com got wind of an upcoming Odell Brewing beer, set to come out sometime next month. It is called Saboteur Brett Barrel Brown Ale, and here is a picture  (click to enlarge) of the bottle it will be packaged in. Read on for more info on this 'should be' tasty beer!
Our brewers created an unpretentious, yet sophisticated Brown Ale. Then they plotted, and dosed this full-bodied ale with Brettanomyces, the ultimate adversary of wineries. Embracing this vintner's nemesis resulted in a complex and wonderfully drinkable beer.
Intense earthy undertones, and notes of vanilla and pineapple come together with a sour silhouette. Aged in American Oak barrels, and then bottle conditioned in 750 ml Belgian style bottles, Saboteur offers a luxurious texture and depth of flavor to discerning palates.
This beer will be available in our eight state distribution area. It will be primarily bottle, but there may be some limited draft as well.
Pairings – this beer pairs well with hearty rich dishes like Buffalo Chili, Pork Tenderloin, or Aged Gouda