Odell Brewing Releases Zard-Alu, A Sour Apricot Ale
(Fort Collins, CO) – On May 27, 2016, Odell Brewing will release its most recent Cellar Series beer, Zard-Alu, a Sour Apricot Ale.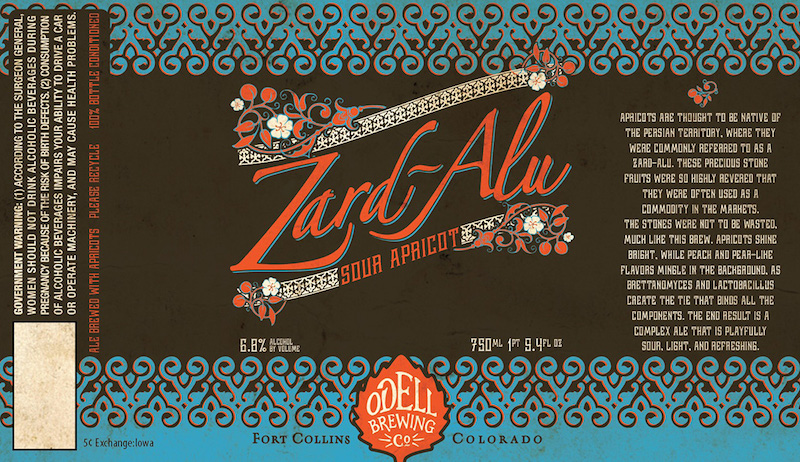 "Stone fruits are one of the top aroma notes in some hop varieties, but the bitterness doesn't always pair well with sour beer," said Eli Kolodny, Quality Control Manager. "So, we wanted to make a sour stone fruit beer and Zard-Alu was born."
Native of the Persian territory, apricots are commonly referred to as Zard-Alu. Apricots shine bright, while peach and pear-like flavors mingle in the background, as Brettanomyces and Lactobacillus create the tie that binds all the components. The end result is a complex ale that is playfully sour, light and refreshing.
Zard-Alu is 100% bottle conditioned. This Cellar Series beer will be available in 750ml cork and cage bottles in all of the brewery's 12 state distribution footprint. Celebrate this release in their tap room on Friday, May 27 and during their Small Batch festival over Memorial Day weekend.
About Odell Brewing – Odell Brewing is an independent, family and employee owned regional craft brewery. Since 1989, the culture of family and collaboration has thrived, fostering a brewery full of beer-centric people. It is this passion for beer that inspires Odell Brewing to create quality, hand-crafted and innovative brews. Odell Brewing is committed to providing exceptional service to its customers while making positive contributions to their co-workers and community through its outreach and charitable giving programs. Odell Brewing was named the "Best Medium Sized Company to Work For" in Colorado in 2015 and is the 32nd largest craft brewery in the United States.