Odell Announces Deconstruction Golden Ale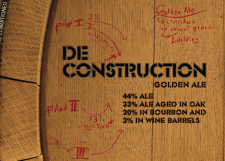 Fort Collins, Colo. – On August 9, 2010, Odell Brewing will release the latest installment in its Single Serve Series of beers, Deconstruction Golden Ale.

"Drawing on inspiration from Jacque Derrida's theory of Deconstruction and the way it works to expose the intricacies of a text," said brewer Joe Mohrfeld, "we developed a process of brewing that first deconstructs the complexities desired in the finished product thereby revealing how to achieve these characteristics through the process of brewing."
Deconstruction Golden Ale, the result of this brewing process, was created by blending the final recipe with smaller pilot batches of the brew aged in oak, bourbon, and wine barrels and fermented with wild yeasts. Each brew contributes a unique flavor, derived from the wood chosen and the cultures resident, to achieve the subtle complexities desired.
Deconstruction Golden Ale starts sweet, delivering fruity esters reminiscent of peach, mango, and grapefruit. The sweetness is balanced by a mild spicy and slightly tart finish. The 10.5% ABV brew also boasts an earthy citrus hop aroma and a rich bronze color. Deconstruction is offered in 750 ml cork and cage finished bottles at a suggested retail price of $14.99. Only about 5000 bottles will available in the brewery's nine state distributor region.
Odell Brewing will celebrate the release of Deconstruction Golden Ale, with an uncorking party on Saturday, August 7th  from 4 – 6 p.m. in the brewery's tap room. Guests can enjoy live music and samples of the beer paired with a variety of pies made with locally grown fruit.