O'Briens – Birthdays, Cheese and Bowling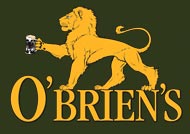 From Tom Nickel, the man behind the national landmark beer bar, O'Briens Pub in San Diego, CA.
Hello Beer Fans!
Tonight is Nor Cal beer night with lots of great beer on tap. In addition to our regular Bear Republic Racer 5, Russian River IPA, Blind Pig and Pliny the Elder, Sierra Nevada Pale Ale and Lost Coast Old Ale we will have Marin IPA, Moylan's Double Kiltlifter, Lagunitas Gnarleywine, Drake's Denogginizer and a collaboration brew from Triple Rock and Green Flash called Red Rock Rye. It will be a great night of great beer from the upper half of California.
There will be plenty of new bottles to look forward to this weekend. We already have in Ballast Point Sculpin IPA, Lindeman's Cuvee Rene, Avery Maharaja, Stone Imperial Russian Stout and Aspall Organic English Cider. Look for some new Fantome and Cantillon bottles on Saturday including Fou Fonne – the apricot lambic from Cantillon.
Next Week
Next week you can look forward to the birthday bash for Pat McIllhenney from Alpine Beer Company and Tyson Blake from San Diego Brewing Company. In their honor we are tapping casks of Exponential Hoppiness and Lagunitas Correction IPA – a new 7.2% IPA from the brewery that I have not yet even tried. We'll also have the Ballast Point Victory at Sea on tap and a keg of Avery Maharaja. Thursday the 30th we will tap a cask of the very popular AleSmith IPA.
We have some amazing casks coming in the next few weeks. May 6th – Alpine Duet IPA, May 7th – Port 3rd Anniversary Double IPA and Pizza Port Carlsbad Poor Man's IPA, May 13th – Ballast Point Sculpin IPA, May 14th – Stone Russian Imperial Stout and beyond that we will still have casks of Alpine Nelson Rye-IPA and Alpine Bad Boy coming. It is going to be an incredible few weeks of cask beer.
Beer and Cheese Please
As mentioned, we have a few seats open for the class at Taste, tonight – Wednesday the 22nd at 7 pm. We also have added a third class on Sunday, May 3rd at O'Brien's at 6:30 pm due to popular demand. We have set the final pairings for the class and I am very excited about it. We have several firsts in this upcoming class that are very different from the pairings we have done in the past. Among things we are using for the first time – a double IPA, an English cider, Parmigianno Reggiano cheese and the Malheur Dark Brut. Cost for the class is $40 and will include 7 beers and 8 cheeses total. You can sign up at the pub (cash only please) or contact Taste (find the link on our friends page of the website) to pay with a credit card. We already have more than one third of the seats sold for the third class and like the two previous classes, we expect this one to sell out.
Bowling and Beer Camp
Team O'Brien's – Micaela, Kat and Tiff – have done a wonderful job raising money for the Bowling for Animals charity event happening this weekend on Sunday the 26th. They are raising money to help fund spay and neutering clinics for SNAP, a local group that promotes zero euthanasia of pets. If you would like to make a donation, the girls have forms at the pub or you can go online at: www.firstgiving.com/teamobriens and make a contribution which is tax dedcutible.
In other beer news, Jeff Bagby, Tomme Arthur and myself returned safely from Sierra Nevada Beer Camp up in Chico, CA. We brewed the strongest beer that they have ever made on their pilot system – an 11% abv Imperial Stout. Expect it to be down here sometime in early June. The brewery was amazing – a true pilgrimage for beer fans. It is truly impressive. The restaurant is equally amazing – great food, spent-grain fed beef, classic interior and lots of Sierra Nevada specialty beer – everything you want in a great brewery restaurant. And Chico is an astonishingly cheap town to drink in, and everyone serves Sierra. If you have the chance I highly recommend visiting Sierra Nevada.
That is your good beer news for now. Don't forget to load up on Forever stamps at the Post Office – stamps go to 44 cents on May 11th. We'll see you soon for a great beer. Cheers, Tom
Tom Nickel
O'Brien's Pub
20 Taps – Tons of Hops
4646 Convoy Street
www.obrienspub.net