Ninkasi Brewing Wins GABF Gold for Bohemian Pilsner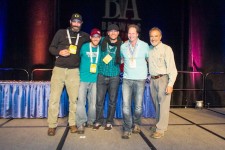 (EUGENE, OR) — Last week, Denver, Colorado hosted the 2013 Great American Beer Festival (GABF), an annual, three-day beer festival and one of the most coveted beer competitions in the brewing industry. Presented by the Brewers Association, GABF is the largest national beer competition that recognizes the most outstanding beers produced in the nation.
In an award ceremony held on Oct. 13 at the Colorado Convention Center in Denver, the top three winners in the competition's 84 beer-style categories were announced. Jamie Floyd, Ninkasi's founding brewer and co-owner, and other Ninkasi team members excitedly accepted an award on-stage as the brewery was presented with a gold medal in the Bohemian-Style Pilsener beer-style category for its Bohemian Pilsner. In total, 53 beers from breweries across the nation competed in this category.
Released in July 2013, Ninkasi's Bohemian Pilsner was brewed under its Rare and Delicious Series, offering limited-release beers that are creative expressions of its brewing collective. The beer itself was released specifically for the 26th Oregon Brewers Festival, and is a Ninkasi take on the traditional Bohemian-Style Pilsener. Ninkasi's Bohemian Pilsner is a medium-bodied golden lager with spicy floral aromas from the styles signature hop, Saaz.
"Winning gold or any medal for a Bohemian-Style Pilsener is an incredible achievement for us as brewers," explains Floyd. "This is an incredibly difficult beer to make and we love to show that we are as committed to making delicious lagers as much as we are to the hoppy beers we are associated with."
Set to release in January 2014, Ninkasi will release its Bohemian Pilsner as the next beer in its Prismatic Lager Series. Renamed after the Czech word for truth, Pravda will be available in 12oz. bottles and on-draft January through April 2014.
"This style has been produced for centuries in Europe so we are excited to share this delicious lager with our fans as a true representation of the style," says Floyd.
For more information about the GABF competition, including the 2013 winners list and photos, visit: www.GreatAmericanBeerFestival.com.
Ninkasi's complete line-up of beers can be found at: www.NinkasiBrewing.com/beers.
About Ninkasi Brewing Company
Founded in 2006 by Jamie Floyd and Nikos Ridge, Ninkasi Brewing Company continues to grow from its first batch of Total Domination IPA, to a 55-barrel brewing system located in Eugene, Ore.  Ninkasi's Flagship beers—Total Domination IPA, Tricerahops Double IPA, Believer Double Red, Oatis Oatmeal Stout, and Vanilla Oatis Oatmeal Stout—are sold throughout Oregon, Alaska, California, Idaho, Montana, Washington, and British Columbia. The brewery remains privately-owned and is committed to community support and giving. Ninkasi's Beer Is Love program offers in-kind donations and support for organizations throughout its footprint.