Night Shift Brewing – Somer Weisse Release, Citranation and Upcoming Events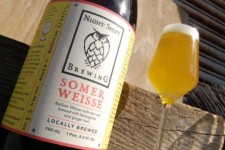 From the latest newsletter of Night Shift Brewing: We welcome our fans to join us next Wednesday, July 17th from 5-10pm at Night Shift Brewing to share in the bottle release of our lemongrass and ginger summer sour, Somer Weisse. Bottles will go on sale that night, and we'll also have it on tap for draft sales (joined by our other taproom beers). We're also lucky enough to feature two food vendors that night – Roxy's Gourmet Grilled Cheese and local chef Gita Kantrow (who will be serving veggie pad thai, caramelized pork in banana leaves, and stir fried pineapple). Food portions will be large enough for any guest to have dinner if they choose.
CLICK HERE to buy a ticket to the event, or head to our online store!
Other brewery news:
We finally bottled Citranation, and released bottles of it last week! Come get a bottle or growler fill at the brewery, or look to select local bottle shops who should have it in stock by the end of this week. Citranation is the first in our "Nation of Hops" Series – Double IPAs with the same base recipe, different hops featured (isn't Backlash doing the same thing? Yes. Was it planned? No. Is it awesome that two local breweries independently came up with the same idea? Yes. It's very awesome.) Look for Simcoenation next!
Tickets to Drink Craft Beer's "Summerfest" this upcoming weekend are still on sale here! Along with Ever Weisse, Somer Weisse, Honeydew, and Viva Habanera, we will be featuring Arnie –  the offical beer of the festival! Pretty much a funky beer version of the Arnold Palmer, Arnie's a saison with meyer lemon zest and juice, aged in white wine barrels, blended with Kombucha from Portland's Urban Farm Fermentory. It's tangy, tart, refreshing and delicious, and we hope to share it with you at the fest!
Cheers,
-The Night Shift Brewers