New Sierra Nevada Variety Pack Features The Flavors Of Fall
Chico, CA – Sierra Nevada Brewing Co. is premiering two brand new beers in its second seasonal variety 12-pack of the year. The Fall Pack seasonal sampler, heading to distributors this week, reimagines classic styles and highlights timeless favorites for a range of beer flavors from rich roasted malts to bright citrusy hops. The Fall Pack works its way through a spectrum of styles—just the thing for a season notorious for unexpected warm days and chilly nights.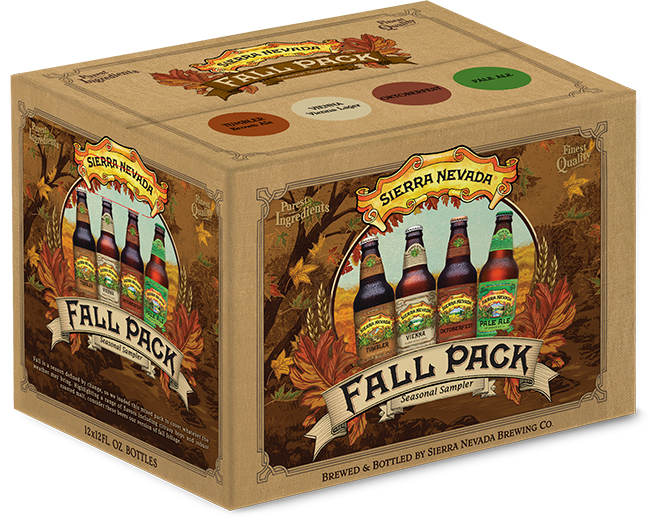 Available through October 2014, the Fall Pack seasonal sampler includes:
Oktoberfest is the classic German-style festival beer: an easy-drinking yet compelling blend of silky toffee-like malt flavors balanced by crisp and floral hops. Oktoberfest beers were created for a celebration and this beer invites you to raise your glass and shout, "Prost!"
Vienna Lager is one of the world's most balanced beer styles. Nuanced flavors drift from semi-sweet, bready malt notes to a floral and peppery kick from whole-cone European hops. Vienna-style lagers pair with nearly every type of food and are a perfect match for an autumn afternoon.
Tumbler® is Sierra Nevada's beloved brown ale, back by popular demand – full of roasted malt flavor but delicate on the palate and just the thing for crisp fall days. Tumbler is layered with notes of chocolate and toasted bread and a hint of smoke.
Pale Ale began as a home brewer's dream, grew into an icon, and inspired countless brewers to follow a passion of their own. Its unique piney and grapefruit aromas from the use of whole-cone American hops have fascinated beer drinkers for decades and made this beer a classic, yet it remains new, complex and surprising to beer drinkers every day. It is—as it always has been—all natural, bottle conditioned and refreshingly bold.
"Fall is a tricky season for beer," said Ken Grossman, Sierra Nevada's founder. "The temperature can swing from hot to cold quickly which makes it tough to pick the right beer for the right occasion. Beer has such an incredible range of flavor, and we wanted to showcase several different styles so that no matter what the weather does, you'll always have a great choice on hand."
As the Fall Pack makes its way into stores, craft drinkers can track down the variety pack using Sierra Nevada's Beer Locator. Fans should also be on the lookout for a new Sierra Nevada variety 12-pack due out this holiday season.
About Sierra Nevada Brewing Co.
Founded in 1980, Sierra Nevada Brewing Co. is one of America's premier craft breweries, highly regarded for using only whole-cone hops and the finest quality ingredients. The pioneering spirit that launched Sierra Nevada spans more than three decades, with innovation emerging from both the brewhouse and sustainability initiatives. Sierra Nevada has set the standard for artisan brewers worldwide as a winner of numerous awards for its extensive line of beers including Pale Ale, Torpedo®, Porter, Stout, Kellerweis® and a host of seasonal, specialty and limited release beers.
www.sierranevada.com – @SierraNevada – facebook