New Ice Cream Flavors from Victory Brewing Company
Downingtown, PA – Victory Brewing Company® (Victory), the popular Philadelphia-area craft brewer announces the addition of two new flavors to its existing delicious line of Victory Ice Cream. The new pints, which will retail for $6.49, include Belgian Brûlée and Strawberry Love. Both exciting new flavors will be available at Kimberton Whole Foods, select Shop Rite stores and the Victory retail outlet in Downingtown. Additional retail outlets will be added as production capacity permits.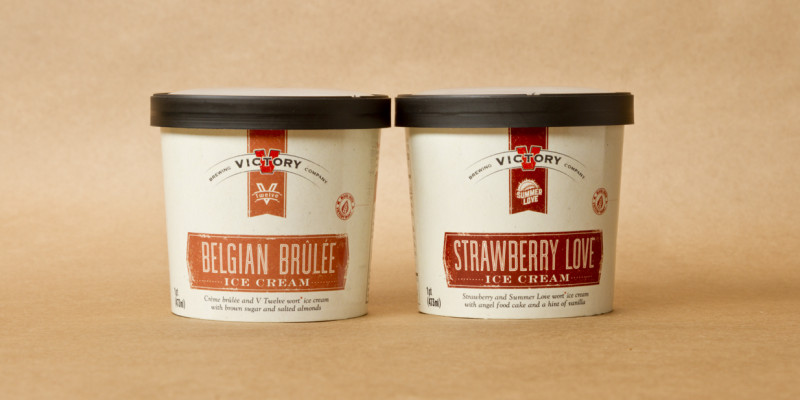 Victory Ice Cream is made with wort, the flavorful, non-alcoholic liquid that results from the brewing of malted barley and fresh Brandywine water used to create the craft brewer's beloved beer brands. As a result, the ice cream provides luscious flavor combinations reminiscent of Victory beer within a rich and creamy gourmet ice cream base.
Belgian Brûlée combines the rich, silky flavors of crème brûlée with subtle, delicious notes of V Twelve wort paired with the sweetness of brown sugar and the salty crunch of almonds. Strawberry Love offers juicy strawberries with refreshingly tasty Summer Love Ale wort and moist angel food cake within a rich, smooth strawberry and vanilla base. Belgian Brûlée and Strawberry Love join the existing line up of Victory Ice Cream flavors Hopped-Up Devil, Triple Monkey and Storm Drop.
"We love ice cream almost as much as we love beer so it's only natural to want to challenge ourselves creatively with our favorite dessert," said Victory's President and Brewmaster, Bill Covaleski. "We believe that the fans of V Twelve and Summer Love Ale will certainly appreciate our efforts and ingenuity. We feel we are expanding the range and appeal of beer flavors."
About Victory Brewing Company
Victory Brewing Company is a craft brewery headquartered in Downingtown, Pennsylvania. Founded by childhood friends, Bill Covaleski and Ron Barchet, Victory officially opened its doors in February of 1996. In addition to the original Downingtown brewery and brewpub, Victory recently opened a second state-of-the-art brewery in Parkesburg, PA to expand production capabilities and serve fans of fully flavored beers in 35 states with innovative beers melding European ingredients and technology with American creativity.
www.victorybeer.com – @VictoryBeer – facebook