New Holland Brewing Announces Collaboration With…..Carhartt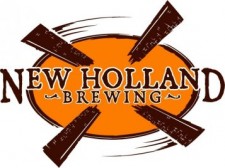 HOLLAND, Mich. | February 3, 2014 Carhartt, America's legendary work wear brand since 1889, and New Holland Brewing Co., brewers of craft beer and spirits, announced a collaboration brew crafted to celebrate the 125th anniversary of the iconic clothing manufacturer and pay tribute to the hard-working people who wear the brand. The two Michigan-based companies will collaborate throughout the process – from concept, to utilizing Michigan-made ingredients, to brewing, packaging and distribution for a Fall 2014 release.
"Carhartt is the epitome of craftsmanship," said New Holland president, Brett VanderKamp. "The same dedication to hard work and creativity that we admire in farmers, chefs, artists and other brewers – is exactly what you'll find at Carhartt. They reflect the same devotion to quality raw materials, artisan processes and delivering remarkable results as we do here at New Holland."
Carhartt and New Holland will share their story throughout 2014 as the project develops. They plan to announce more specifics about the brew itself and other points of collaboration as early as this spring.
"There have already been many great discoveries during this collaboration," said Carhartt's vice president of marketing, Tony Ambroza. "Not only do we share a home state, but we share a similar mission to serve those who believe in superior craftsmanship, products worth reaching for and experiences that last a lifetime. That's a powerful place to start a partnership."
New Holland's vice president of sales & marketing, Fred Bueltmann, agrees that the companies share more similarities than differences; for example, serving the same discerning customer who values products that are well-made.
"Working with Carhartt is very inspiring," Bueltmann said. "In our own industry we're seen as the 'old guys' – having been around since 1997. When you look at a company like Carhartt that has been around since 1889 and has never compromised on quality and craftsmanship – it reaffirms our own direction and commitment to creating great products with integrity. We know it can be done because it already has."
About New Holland Brewing Co.
New Holland Brewing Company's deep roots in the craft industry go back to 1997. Our role as an integral member of the artisan approach is something we take seriously, yet engage lightheartedly.  We believe the art of craft lives in fostering rich experiences for our customers, through creating authentic beer, spirits and food while providing great service. Recognized for our creativity and artistry, our mission to improve the lives of craft consumers everywhere is seen in our diverse, balanced collection of beer and spirits.
About Carhartt, Inc.
Established in 1889, Carhartt is a global premium work wear brand with a rich heritage of developing rugged apparel for workers on and off the job. Headquartered in Dearborn, Mich., with approximately 4,400 employees worldwide, Carhartt is privately owned and managed by the descendants of the company's founder, Hamilton Carhartt. For more information, visit www.carhartt.com.