The Bruery Introduces Tumescence, Bois Fumé, Smooth Criminal + Mélange #9
The Bruery has announced some new beers, some will be available to everyone, some will be available to Reserve Society and up and some will be exclusive to the Hoarders Society.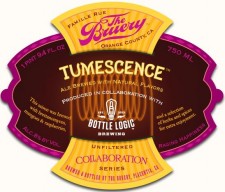 Tumescence 8% abv –This beer will also appear in the forthcoming Preservation Society allocation and in local distribution.
We brewed this Saison-style ale with our friends at the newly opened brewery, Bottle Logic, located just down the street from our sour barrel warehouse.  Being just as interested in style bending beers as we are, this not-so-logical beer was born.  The base beer is a Belgian-style farmhouse Saison, fermented with brettanomyces, but that's just where the fun begins.  Our teams selected an unusual set of herbs to brew the beer with and then added as much raspberry and mango puree as we could fit into our fermenters.  The result is a tropical Saison that is perfectly refreshing during this unusually warm California winter.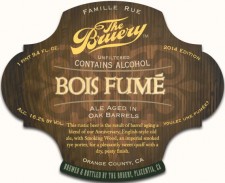 Bois Fumé  16.2% abv Society Exclusive
This rustic beer is the result of barrel aging a blend of our Anniversary, English-style old ale, with Smoking Wood, an imperial smoked rye porter. Bois Fumé, meaning 'Smoking Wood' in French, is pleasantly sweet with a dry, peaty finish.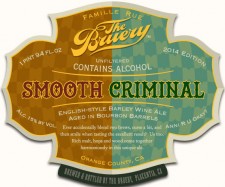 Smooth Criminal  15% abv Society Exclusive
Ever accidentally blend two brews, curse a bit, and then smile when tasting the excellent result? Us too. Smooth Criminal is the splendid result of moving a bit too quickly in the brewhouse. An accidental addition of Saison De Lente to a fermenter full of our Anniversary ale led us to ask, "Anni, are you okay?" She was. Smooth Criminal showcases rich malt, flavorful hops and oaky goodness in a harmoniously unique ale.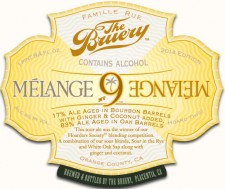 Mélange #9 8% abv Hoarders Society Exclusive
Mélange #9 was created by your peers at a special blending competition held in November 2013 for our Hoarders Society members at the time.  Each team was given access to a slew of our barrel aged beers and were allowed to bring in pretty much any ingredient of their own to add to the mix.  The winning blend is a sour ale, using both our sour blonde ale and Sour in the Rye, with a hint of sweetness from White Oak Sap. Coconut and fresh ginger was added to the blend just a few days before packaging, generating a super fresh, tropical spice.