New Glarus R&D Bramble Berry Bourbon Barrel Release Details
(New Glarus,WI) – The New Glarus Brewing Company is proud to announce the third in a series of four 2015 R&D releases. This very special release is Diploma Master Daniel Carey's newest Wild Brown Ale, Bramble Berry Bourbon Barrel. Bramble Berry Bourbon Barrel is spontaneously fermented Wild Brown Ale from our Wild Fruit Cave. Expect a bright blend of forest fruit backed Oaky barrel notes. Great for aging or drinking today!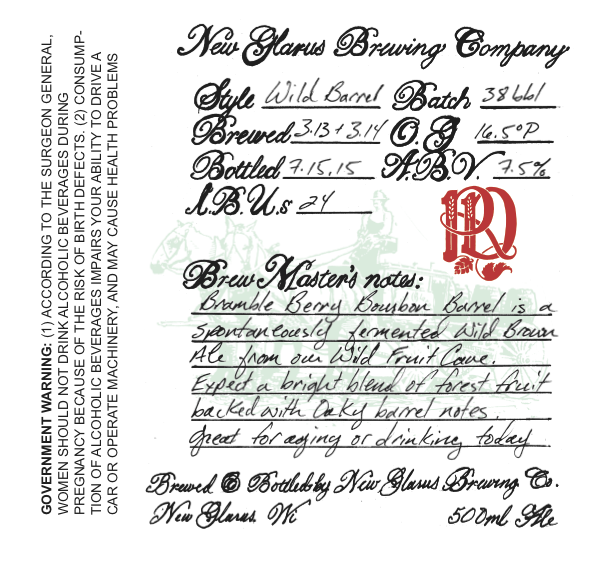 Bramble Berry Bourbon Barrel will be released at the New Glarus Brewing Company Hilltop facility on Thursday, August 6; Friday, August 7, and Saturday, August 8th. The two bottles per person per day limit will be enforced. This is a limited release with bottles available each day.
Sales will begin no later than 9:00 a.m. Each bottle costs $10.00 (includes tax). Cash is welcomed, but not required.
The final R&D release for 2015 will be held on Thursday, October 8; Friday October 9, and Saturday,October 10. The October R&D beer style will be announced prior to that release date.
The New Glarus Brewing Company was formed in 1993 by Daniel and Deborah Carey, who combined their considerable talents of brewing great beer and business management skills to build a state-of-the art award winning brewery that still honors the history and traditions of the Village of New Glarus. Dan and Deb Carey have worked hard to maintain their philosophy based on individuality, cooperation and the employment of 100% natural ingredients to produce world-class handcrafted beers for our friends in Wisconsin. In 2015, New Glarus Brewing Company became Employee Owned. Check out our website: www.newglarusbrewing.com and look for us on Facebook and Instagram!