Introducing Jester King Bière De Syrah
(Austin, TX) – We are pleased to introduce Jester King Bière de Syrah — a barrel-aged sour beer refermented with Syrah grapes. Bière de Syrah consists of a blend of beer fermented in oak barrels for nine to twelve months with our mixed culture of brewers yeast and native yeast and bacteria harvested from the air and wildflowers around our brewery. The blend was then refermented with Syrah grapes for about two weeks, transferred off of the fruit, then aged for an additional nine months in oak barrels. After packaging, the beer naturally conditioned for an additional two months prior to release. Altogether, Bière de Syrah is roughly two years old.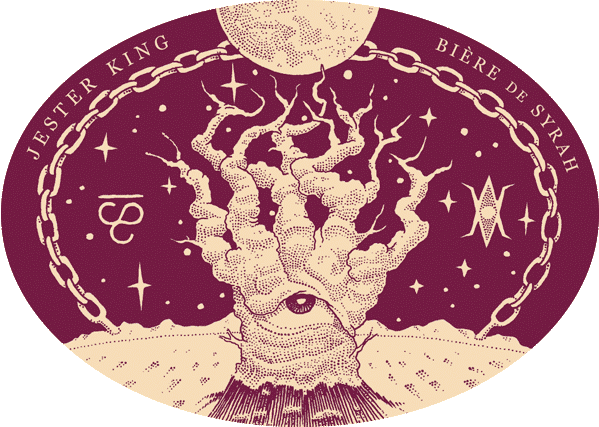 Bière de Syrah spent considerably more time aging than most of our other fruited sour beers. This is due to the fact that our Barrel Program Head Adrienne Ballou likes the practice of racking (transferring) beer refermented with wine grapes back into oak barrels for further maturation. Adrienne came to Jester King from the wine world and brought several winemaking techniques with her. According to Adrienne, maturation in oak barrels following fruit refermentation allows the beer to take on more complex characteristics than just bright fruit character and acidity.
The grapes used in the refermentation of Bière de Syrah came from the 2014 harvest in California. We attempt to use native Texas fruit whenever possible, but in this case, we had difficultly sourcing Texas grapes last year. Most of the grapes from the 2014 Texas harvest went to winemakers. Fortunately, we've developed some great relationships with wineries in our area, so hopefully this will be the last time we source grapes from California, or anywhere outside of Texas.
Bière de Syrah was brewed with Hill Country well water, barley, wheat, oats, and hops. It was fermented with our mixed culture of brewers yeast and native yeast and bacteria harvested from the Texas Hill Country prior to refermentation with Syrah grapes. It is unfiltered, unpasteurized, and 100% naturally conditioned in bottles, kegs, and casks. Bière de Syrah is 7.3% alcohol by volume, 9 IBU, 3.2 pH at the time of packaging in June 2015, and has a finishing gravity of 1.001 (0.25 degrees Plato).
Bière de Syrah will be released at Jester King when our tasting room opens at 4pm on Friday, July 31st. It will be available to go in 500ml bottles ($16/bottle, limit 1 per customer per day, approximately 2,700 bottles available). A very limited amount of Bière de Syrah will be available by the glass at our tasting room. We'll be tapping one gravity keg (20L) of Bière de Syrah at 4pm on Friday, 1pm on Saturday, and 1pm on Sunday and selling 4 ounce pours while supplies last. Outside of special events, Bière de Syrah will only be available at our tasting room. The label art was created by our own Josh Cockrell.
www.jesterkingbrewery.com – @jesterkingbeer – facebook