New Glarus Brewing Berliner Weiss Returns
(New Glarus,WI) – The New Glarus Brewing Company proudly announces the return of its Berliner Weiss. This year, the brewery has increased the production of Berliner Weiss after supplies ran short last year.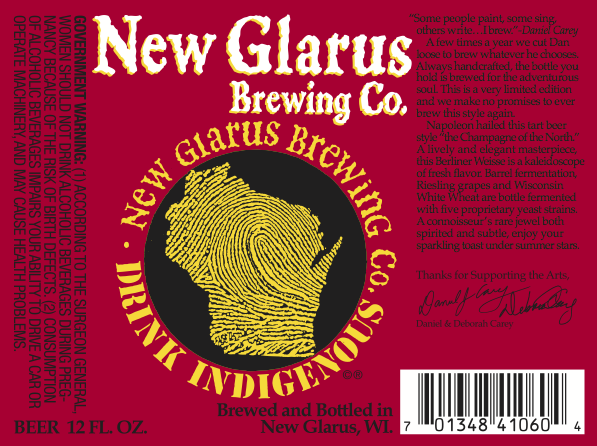 The Berliner Weiss style of beer is a bold sour beer that dates back centuries. Napoleon is said to have referred to Berliner Weiss as a "The Champagne of the North" because of its light and bubbly essence.
New Glarus Brewing Company's Berliner Weiss follows in the footsteps of the company's sour beers that include Old English Porter, Enigma, Wisconsin Belgian Red, Raspberry tart and a number of Sour Browns.
Diploma Master Brewer Dan Carey has concocted a distinctive and lively sour brew, using five proprietary yeast strains, Wisconsin White Wheat and accentuated with Riesling grapes. Berliner Weiss is both barrel fermented and bottle conditioned. This is a beer that will cellar beautifully.
Effervescent and a bit edgy, Berliner Weiss is a delightfully refreshing, light summer brew and pairs well with fish, farmer cheese and Gouda. It's light tart flavor and effervescence cleanses the palate.
New Glarus Brewing Company Founder/President Deb Carey says, "A connoisseur's rare jewel both spirited and subtle, enjoy your sparkling toast under summer stars."
Berliner Weiss is one of the New Glarus Brewing Company's Thumbprint beers. Thumbprint beers are still brewed with the beer enthusiast in mind and are brewed in small batches that are intended to be available for one time only. However, popular demand has caused some styles to return.
New Glarus Brewing Company was formed in 1993 by Daniel and Deborah Carey, who combined their considerable talents of brewing great beer and business management skills to build a state of the art award winning brewery that still honors the history and traditions of the Village of New Glarus. Dan and Deb Carey have worked hard to maintain their philosophy based on individuality, cooperation and the employment of 100% natural ingredients to produce world-class handcrafted beers for our friends in Wisconsin. Cheers!