New Glarus Apple Ale Returns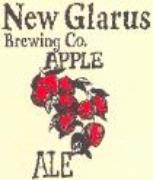 With exhilarating crispness, fall returns and hearkens the impending holiday celebrations. When the leaves begin slipping from the trees, it is again time for the bountiful apple harvest and the return of a satisfying delight from New Glarus Brewing Company.
Kick off your celebration with this special limited edition treat, Unplugged Apple Ale, available throughout Wisconsin.
New Glarus Brewing Company is well known for their delectable fruit brews, winning awards both nationally and worldwide, but their most well known and loved Unplugged fruit brew is consistently Apple Ale. With the growing season coming to an end, leaves begin to turn a spectacular variety of colors. This dramatic change in scenery accompanies the harvest of a fruit that has been synonymous with the United States for generations. With award-winning satisfaction spanning over a decade, Apple Ale continues to celebrate the breathtaking season by gratifying all fans of this bountiful fruit. This delightful brew will fly from shelves, so be sure not to pass it by.
Apple Ale sings with the fresh crisp taste of Wisconsin Apples. Our Brewmaster, Daniel Carey, begins with a brown ale base employing Wisconsin farmed wheat and a blend of Cortland, Macintosh and Jonathan apples. Our apple growing friends in Richland Center, WI fresh squeeze them especially for this brew. Expect this Ale to pour a beautiful copper color. The fresh bouquet of Apple will rise to meet you even before the glass touches your lips. So be sure to sip slowly and enjoy the fruits of a Wisconsin Harvest.