Dock Street Unveils First of Two 2010 Limited Bottle Releases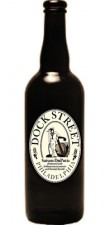 Dock Street Brewery Unveils First of Two 2010 Limited Bottle Releases: Barrel-Aged Saison DuPotts Fermented Entirely with Brettanomyces Wild Yeast!
Philadelphia- To make this special elixir a small portion of our Saison DuPotts was racked into an used apple brandy barrel, and was then fermented entirely with a single "unknown" strain of Brettanomyces yeast.  This special strain was cultured for us by our friend Al Buck. He isolated the original single cell from the remains of a bottle from Fantome (a cult-status saison brewery located in Soy, Belgium).  The beer then underwent a secondary fermentation period to naturally clarify before we dosed it with priming sugar and our house yeast and bottled it for conditioning.
The result is a wonderful experiment in barrel-aging and wild yeast.  The beer is remarkably clean with only very subtle hints of the classic Brettanomyces "barnyard" character.  With extended 'cellaring' this quality may develop over time.  Herbal hops, wood, and hints of apple brandy come through in the aroma.  The flavors mimic the aroma:  nuanced layers of dried herbs, lemon rind, and spicy wood notes, with a hint of classic farmhouse funk and an extremely dry finish.
We're really excited about this little project, but unfortunately it's not a brew we can do often (if we ever even do it again!). Only a handful of bottles will be available to the public at the brewery – three and a half cases, that's right only 42 bottles!!!  We also filled a pin (a 5 gallon firkin) to serve at the pub during the release on November 23rd.  Three "secret" locations will also receive one case each, to be released on the same night as our event.  We'll be dropping hints about these locations leading up to the day of the release, so if you can't make it out to West Philly that night, you might be able to find a bottle on a little beer scavenger hunt.  Celebrate with us on November 23rd starting at 6:30 in the evening and get your hands on a bottle of this very rare and special beer – When it's gone, it's gone!
Cheers!
Dock Street Brewery