New Belgium Shares Brewhouse Space With Avery Brewing During Construction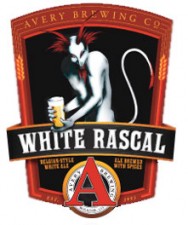 (Boulder/Fort Collins,CO) Avery Brewing Company and New Belgium Brewing announced today that they have finalized an alternating proprietorship arrangement that will allow Avery to lease space at New Belgium's Fort Collins facility where brewers from Avery can brew Avery's White Rascal Belgian-Style White Ale for draft package until Avery's new brewery opens in Boulder in January 2015.
"I had never imagined doing this, but it was too good to pass up," said Adam Avery, who founded the Avery Brewing Company with his father, Larry Avery, in 1993. "Construction of our new brewery is now underway, but it was a long process to get started. While finalizing the plans for our new facility, we hit absolute capacity in our current brewery. It wasn't just the lack of space, it was the rest of the infrastructure. The banks financing our new project wanted to see growth and without it our entire plan for a new brewery was in jeopardy. That's when the phone rang. It was New Belgium with an idea on how they could help."
The plan is limited to a single beer and a single package, Avery White Rascal in kegs. The agreement is also limited to one year, the period of time until Avery's new brewery opens.
"For New Belgium this is an opportunity to help another great Colorado brewer get through a time of capacity constraints," said New Belgium CEO and co-founder Kim Jordan.  "We've been in this exact position. Adam's a great friend with a very talented team and we're happy to help where we can."
By moving the White Rascal draft production up to Fort Collins both time and space will be freed up at Avery's current brewery in Boulder. Adam said that additional capacity will be used to brew more seasonal and specialty beers.
"We are known for having a big portfolio and I am proud of that. Capacity constraints made some of our beers harder to get than we wanted. In 2014 our fans can expect more—more Maharaja, more Kaiser, more Beast and the other Demons, and a lot more barrel-aged beers both in terms of releases and availability," said Adam.
Beyond the extra capacity created by the alt prop arrangement, Adam said this agreement would also give Avery's brew team a chance to train and brew beer on a larger, more advanced brewhouse very similar to the one that will be in Avery's new facility. Brewers from Avery have spent months at New Belgium brewing test batches of White Rascal and dialing in the process to make the beer just right.
"We are making White Rascal, not some new rendition of it. Our team has been working hard up there and the beer reflects their diligence. It's absolutely fantastic!" Adam said.
This is not the first time that Avery and New Belgium have teamed up. The microbiologists that work in each of the breweries have been friends and have worked closely for years. Their working relationship helped both breweries develop two of the most respected Quality Assurance and Quality Control programs in the country.
ABOUT AVERY BREWING CO.
Established in 1993, Avery Brewing Company has developed a reputation as being one of the most daring and visionary breweries in the nation.  They are the brewers of Avery IPA, The Maharaja Imperial IPA, White Rascal Belgian Wheat Ale, Mephistopheles' Stout and eighteen other year-round and seasonal beers.  Please go to www.averybrewing.com for more information on Avery beers.
ABOUT NEW BELGIUM BREWING
New Belgium Brewing, makers of Fat Tire Amber Ale and a host of Belgian-inspired beers, is recognized as one of Outside Magazine's Best Places to Work and one of the Wall Street Journal's Best Small Businesses. The 100% employee-owned brewery is a Platinum-level Bicycle Friendly Business as designated by the League of American Bicyclists, and one of World Blu's most democratic U.S. businesses, and a Certified B Corp. In addition to Fat Tire, New Belgium brews eight year-round beers; Ranger IPA, Rampant Imperial IPA, Shift Pale Lager, Sunshine Wheat, 1554 Black Ale, Blue Paddle Pilsener, Abbey Belgian Ale and Trippel. Learn more at www.newbelgium.com.