Avery White Rascal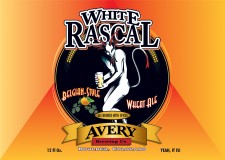 From Avery Brewing – A truly authentic Belgian style wheat or "white" ale, this Rascal is unfiltered (yup, that's yeast on the bottom) and cleverly spiced with coriander and Curacao orange peel producing a refreshingly fruity thirst quencher.
Avery Brewing Co. – White Rascal – 12 oz. bottle poured into an Imperial Pint glass – 5.6% abv.
Appearance: Pours a cloudy pastel yellow with a sudsy white head.
Aroma: Banana and bubble gum wheaty goodness.

Taste: Big time breadiness, a little banana and light spice in the finish.
Mouthfeel: Full and fizzy.
Overall: Not a bad beer at all. Quite enjoyable and packed more flavor than most wits I've tried.