New Belgium Accumulation White IPA Is Back
(Ft. Collins, CO)  – Inspired by Colorado's white winters, New Belgium Brewing's Accumulation White IPA is available beginning today through January 2018. Now in its fifth year, the wintertime favorite features Mosaic and Amarillo hops, tropical aroma and soft citrus, mango and lemon flavors, followed by a bitter bite. The medium-bodied IPA pours unfiltered gold and blizzard white with a snowy head.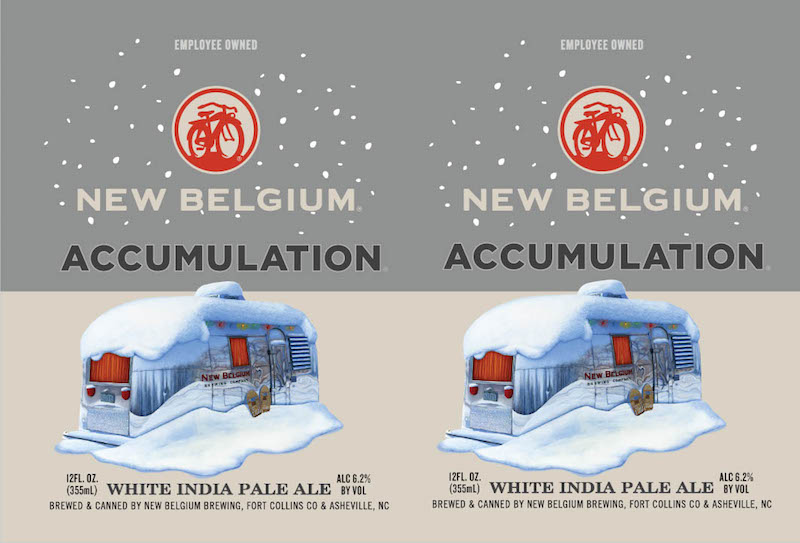 "Dark beers tend to dominate the winter months, but we like to buck the trend with an IPA that's bright and refreshing," said Bryan Simpson, public relations director for New Belgium. "The addition of wheat smooths out the bitter, hoppy flavors and provides a clean, crisp finish. Accumulation offers an ideal counterpunch to the cold winter months to come."
Accumulation White IPA
Mouthfeel: Piney and resinous from hop oils. Finishes clean and crisp.
Aroma: Strong hop aroma that displays tropical fruits, bright citrus, spicy and herbal from heavy dry-hopping
Body: Medium body
Yeast: American Wheat Ale Yeast with bright, fruity notes
Hop Varieties: Mosaic and Amarillo for dry-hopping
Malt Varieties: Pale
Specialty Grains: Wheat
Color: Cloudy haze, pale golden with billows of white, gorgeous foam
ABV: 6.2%
IBUs: 55
Accumulation White IPA is available in 12oz. bottles and on draft. To find it, along with others from New Belgium, visit the Beer Finder or download New Belgium's Beer Mode app. For more information about New Belgium Brewing, visit NewBelgium.com.
About New Belgium Brewing
New Belgium Brewing, makers of Fat Tire Belgian Style Ale and a host of Belgian-inspired beers, is recognized as one of Outside Magazine's Best Places to Work and one of the Wall Street Journal's Best Small Businesses. The 100% employee-owned brewery is a Platinum-level Bicycle Friendly Business as designated by the League of American Bicyclists, and one of World Blu's most democratic U.S. businesses, and a Certified B Corp. In addition to Fat Tire Belgian Style Ale, New Belgium brews thirteen year-round beers; Citradelic Tangerine IPA, Citradelic Lime Ale, Fat Tire Belgian White, Voodoo Ranger IPA, Voodoo Ranger Imperial IPA, Voodoo Ranger 8 Hop Pale Ale, Dayblazer Easygoing Ale, Tartastic Lemon Ginger Ale, 1554 Black Ale, Bohemian Pilsner, Abbey Belgian Ale, Trippel and a gluten-reduced beer, Glutiny Pale Ale.