Jester King Introduces Örter i Mörker
(Austin, TX) – We're excited to introduce Örter i Mörker, a farmhouse ale inspired by Danish Smørrebrød aged in akvavit barrels!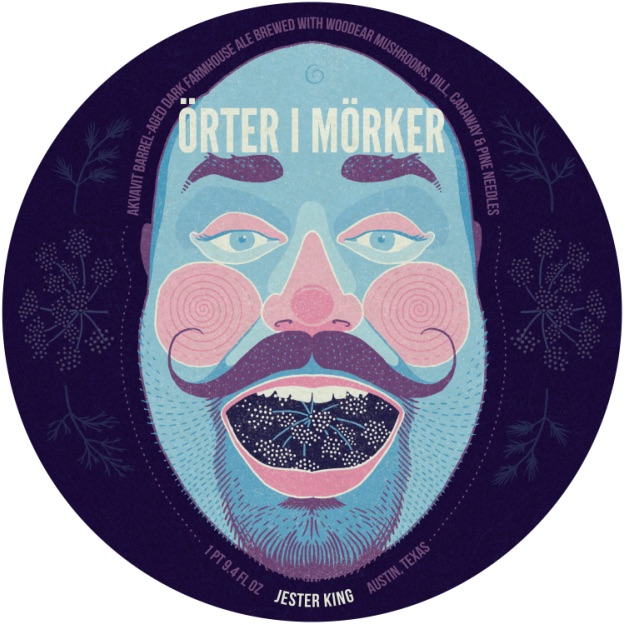 Örter i Mörker was brewed with well water, malted barley, hops, woodear mushrooms, dried dill, dried caraway seeds, and fresh pine needles. It was fermented with our mixed culture and aged in 225L oak barrels formerly containing akvavit, a Scandinavian spirit flavored with caraway or dill.
Örter i Mörker was brewed on March 31, 2016. After fermenting and slowly maturing for about 16 months, it was packaged on July 6, 2017 in kegs and 750ml bottles. Örter i Mörker is 7.9% alcohol by volume, 22 IBU, 3.4 pH, and has a finishing gravity of 1.001 (0.25 Plato).
The artwork for Örter i Mörker was designed by Jester King's Joshua Cockrell. He based the art off of our longtime Tasting Room Manager Eric Kukla.
Örter i Mörker will be released when our tasting room opens at 4pm on Friday, October 6th! It will be available by the glass and in bottles to go (750ml/$22). We have about 2,700 bottles available. The bottle limit is three per customer per day. Örter i Mörker will only be available at Jester King and special events.