New Beer From Moylan's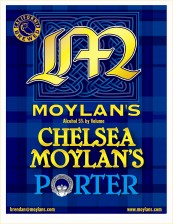 Novato, CA—Moylan's Brewery & Restaurant announces the release of their latest offering, Chelsea Moylan's Porter. This is a rich, robust porter, cleverly crafted to integrate the aromas and flavors of espresso coffee malt and bitter-sweet chocolate malt. Inspired by owner Brendan Moylans' daughter Chelsea, this is an American-Irish Style Porter that dark beer drinkers will love.

ABV is 5.0% on this sumptuous brew; it was recently given a Gold Award score of 92 points by the Beverage Testing Institute at the World Beer Championships in 2009. Available now on draft at the brewery, Chelsea's Moylan's Porter will hit the shelves in April of 2010, available in the following states: CA, OR, WA, AZ, NM, CO, PA, IL, NJ, MA, NV, TX, AR, MO, WI, MI, IN, SC, AL, NY, MD, VA, Washington DC and Vancouver British Columbia.
For more information on Moylan's Beers visit www.moylans.com. For distribution or sales questions contact Sales Manager Curtis Cassidy at [email protected], Cell phone # 415.246.5290. Moylan's Brewery and Restaurant is located in Northern California, Marin County, at 15 Rowland Way Novato, CA 94945, 415.461.4677