Maui Brewing Company Expands Distribution in Nevada and California
(Kihei, HI)  – Maui Brewing Company is pleased to announce great news for beer lovers in the western portion of the United States! Maui Brewing recently partnered with Southern Wine and Spirits in the state of Nevada to provide a stronger presence in the Silver State. "Southern Wine and Spirits has an incredible portfolio in the state and we are elated to be joining a wholesaler that has such a strong stance on selling quality craft beer the right way, all over Nevada. Between this shift in wholesalers in Nevada and the filling in of the pukas in California, we're poised to bring a lot more beer into both states," said National Sales Manager, Pete Scheider.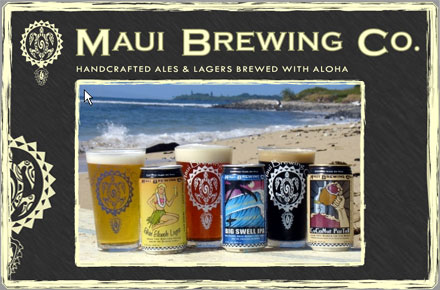 For years Maui Brewing has been available in pockets of California with much of the beer selling through the major metropolitan areas, but several counties remained unopened. With a recent trip through the Central Valley and coastal counties like Santa Cruz, Monterey and San Luis Obispo, that's all about to change. Maui Brewing has signed on four new wholesalers: Chrissa Imports, Central Coast Distributing, Delta Pacific Beverage and Pipeline Beverage to fill out the coast line and the Central Valley. "We've seen many requests from both the coastal counties and the Central Valley for our beers and we're happy to oblige and get these markets opened," said Pete.
Maui Brewing Co. is a craft brewery based on Maui and is Hawaii's largest craft brewer. MBC operates a production brewery and tasting room in Kihei, as well as a brewpub in Kahana, and creates more than 50 different styles of craft beer on a rotating basis. Maui Brewing Co. is available in 12 states and five countries with more areas to follow. Founded in 2005 Maui Brewing Co. brews 100% of its beer in Hawaii, and is now on pace to produce approximately 40,000 barrels in 2015.
MBC is a fiercely local company and has remained steadfast regarding local production. With the motto: Handcrafted Ales & Lagers Brewed with Aloha, the Maui Brewing Co. team are stewards of their communities and the 'aina, and curators of the craft beer way of life. Their beers have been recognized worldwide for quality and innovation.