Magic Hat To Let Drinkers Vote Beer Into Variety Pak – VOTE NOW!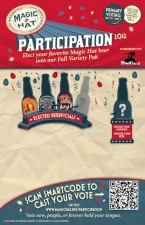 High Participation in Democracy Expected in 2012 – Magic Hat to Let Drinkers Vote Beer into Variety Pak
South Burlington, VT – The Magic Hat Brewing Company has announced a unique way to get Americans to take part in the democratic process in preparation for this year's presidential election. The Vermont brewer is asking the drinking public to vote their favorite Magic Hat beer of yesteryear into the Participation Variety 12-Pak, due out in August. Many beers have been requested over the years, however few have been resuscitated. Participation offers a chance for the masses to have their voice heard, loud and clear.
An Interactively Encouraging, Politically Charged Project
Starting in January, Magic Hat lovers have had the opportunity to vote their favorite Magic Hat beer indto the Participation Variety 12-Pak by visiting www.magichat.net/participation. As each Magic Hat beer is incredibly unique, each has taken a personal stand, the foundations of which can be pondered over one or several libations. From there, voters will be able to make an informed decision based on their personal ale needs and values (in beer). Beer ballots will be counted on April 6, with the winning candidate's inauguration coming in August, when the Participation Variety 12-Pak hits shelves.
The inspiration for such a bold and interactive exercise in democracy comes from a fabulous quadrennial partnership with grassroots voter registration organization, HeadCount. Every four years, Magic Hat partners with HeadCount in an energizing effort to register voters so their voices may be heard. The collective excitement between the two democratically correct organizations promises a year full of politically inspired conversation over some of the finest craft beers ever brewed, the culmination of which will take place on Election Day, November 6, 2012.
A Proud Partner in and Proponent of Democracy
HeadCount is a nonpartisan organization that uses the power of music to register voters and raise political consciousness. Since 2004 it has staged voter registration drives at over 2,000 concerts and signed up over 175,000 voters. It reaches young people and music fans where they already are – at concerts and online – to inform and empower. Jay-Z, Dave Matthews Band and Pearl Jam are among the more than 100 acts that have welcomed HeadCount volunteers to their concerts. Bob Weir of the Grateful Dead and Marc Brownstein of The Disco Biscuits serve on its board of directors. The message of HeadCount is not about what party you support or where you land on an issue. It's that you must speak to be heard.
www.magichat.net – @MagicHat – Facebook