Magic Hat Brewing Company Posts Strong Growth Rate Over 2007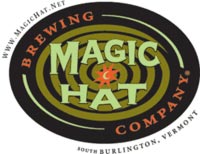 SOUTH BURLINGTON, VT, Aug 28, 2008 — The Magic Hat Brewing Company has announced results for the first half of 2008 with figures that show the brewer is maintaining its strength in the marketplace.
According to industry data from Information Resources, Inc. (IRI), Magic Hat food store dollar sales grew 40.1% through June vs. the same period last year. This expansion is even more impressive in light of current economic conditions and the fact that the craft beer category, as a whole, grew 11% in food store dollar sales over the same period.
Magic Hat remains a leading brand within the craft industry, yet challenges to both company and category remain, most notably rapidly rising prices for raw materials. "Malt costs have risen 60% in the last year and hops prices are five times higher. For us, that means a $1.5 million increase in the costs of goods. It's tough, but we're focused on controlling other costs so that whatever else may be affected, the quality of our product won't be," says Magic Hat President Alan Newman.
Rising raw materials expenses are forcing many craft brewers to boost their prices, but industry growth remains largely unaffected by the trend. "Craft brewers are lucky because our typical customers are much more concerned with flavor than price," says Newman. "They want an experience of taste and variety, and they don't mind spending a little more to get it."
That theory is borne out by Magic Hat's mid-year numbers and the fact that the brewery's flagship beer, #9, is enjoying double-digit growth for its 13th consecutive year. This year, Magic Hat has expanded its distribution to Georgia, Illinois, and Wisconsin, yet 73% of its year-to-date growth occurred within existing territories. "We're growing in new places but also in long-time markets," says Newman. "That's a testament to the strength of our brand and its increasing popularity in an industry that is itself doing very well."
Magic Hat Brewing Company and Performing Arts Center, creators of #9(R), Circus Boy(R), Lucky Kat(TM), and four SeasonAles, supports the arts community and reminds you that safe sex is great sex. "Get tested. Get a condom. Get it on."
SOURCE: Magic Hat Brewing Company
Click here for a review on Magic Hat Lucky Hat IPA
Click here for a review on Magic Hat HI.PA