The Lost Abbey to Release Brandy Angel's Share & Track 10
(San Marcos, CA) – 2015 will mark the return of two oak-aged beers into The Lost Abbey's Barrel Program: Brandy barrel-aged Angel's Share and Track #10 from The Ultimate Box Set.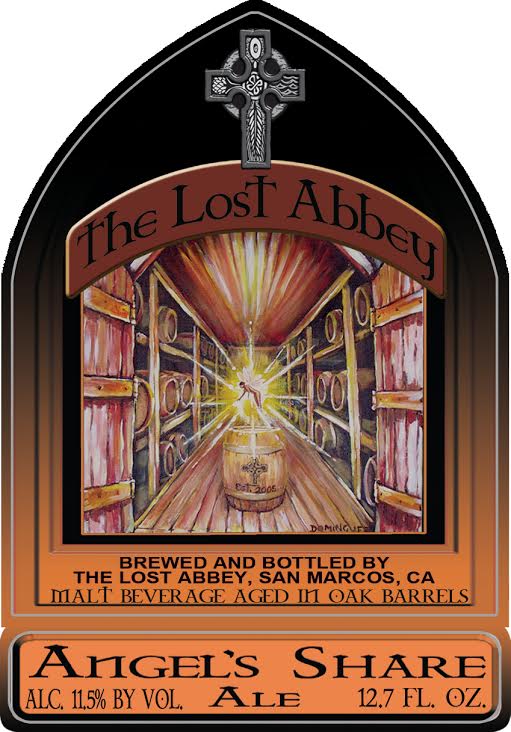 Brandy Angel's Share, last released in 2011, is The Lost Abbey's English-style barleywine aged in brandy barrels for a minimum of twelve months. Brewed with copious amounts of caramel malt to emphasize the vanilla and oak flavors present in the freshly emptied brandy barrels. Aromas of brandy, sweet cocoa powder and roasted malts lead to flavors of dark fruit, freshly ground coffee, and a lasting vanilla finish. 2015 Brandy Angel's Share will be a limited, draft-only release.

Track #10, the highest rated beer out of the Ultimate Box Set garnered scores of 100 on RateBeer and 98 on Beer Advocate, and only the second beer to be granted a revival besides Track #8 in 2014. A barrel-aged version of Serpent's Stout aged on vanilla beans, coffee and cacao nibs in Bourbon barrels, Track #10 was the recipient of the bronze medal in both the 2012 Festival of Wood and Barrel-Aged Beers (Experimental Beer) and the 2013 San Diego International Beer Festival (Unique Ingredient Beer). Layers of dark roasted espresso, creamy caramel, and milk chocolate are followed by a bite from the bourbon barrels relinquishing into a smooth, sweet, vanilla oak finish. Track #10 will be released in 375 ml cork and caged bottles and limited draft.
Both beers are set for release throughout the entire Lost Abbey distribution network beginning in January.
About Port Brewing / The Lost Abbey
Founded in 2006, Port Brewing and The Lost Abbey produce an extensive line-up of continental and American- inspired ales and lagers. Under the direction of visionary brewmaster and co-founder Tomme Arthur, the brewery has garnered dozens of awards in its seven-year history including the 2007 Great American Beer Festival Small Brewery of the Year, The 2008 world Beer Cup Champion Small Brewery and the 2013 Champion Brewery at the San Diego International Beer Festival. The company's beers, many of which are aged in oak barrels for 12 months or longer, are universally recognized for their complexity, unique flavors and bold boundary-pushing styles.