Lost Abbey Ad Lib Will Be Bottled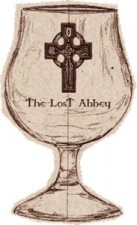 Last year, Lost Abbey released a beautiful blended barrel aged beer called Ad Lib. Ad Lib is a blend of Bourbon Barrel Aged Midnight Expression, Bourbon Barrel Aged Judgment Day and Rye Barrel aged Serpent's Stout. It made it's debut at last years 5th Anniversary Party, and was spotted here and there as a draft only offering.
Well, the beer was such a hit that it will now be bottled, here are the details:
Ad Lib will be taking over for Ten Commandments as the Anniversary beer from the Lost Abbey side of the house. Expect it to be released in 375ml bottles at the sixth anniversary party (slated for Saturday, May 6th, 2012).

As you know, Ad Lib was a beer originally blended as a one-off for last year's anniversary, but it turned out so well that Tomme decided to make it available in bottles. We don't have a final yield just yet, but the batch is expected to be large enough to hit our full distribution network.