Lompoc Brewing To Release Seven Holiday Beers
(PORTLAND, OR) – Lompoc Brewing has announced the upcoming release of seven holiday beers on draft for this season. The beers will be released on Monday, Nov. 27 from 4pm to 11pm at Lompoc Sidebar, 3901 N Williams Ave. The beers will be available on tap at all other Lompoc pubs on Nov. 28. C-Sons Greetings will be Lompoc's only holiday beer available both on draft and in bottles. This year's lineup includes old favorites alongside some new recipes, including: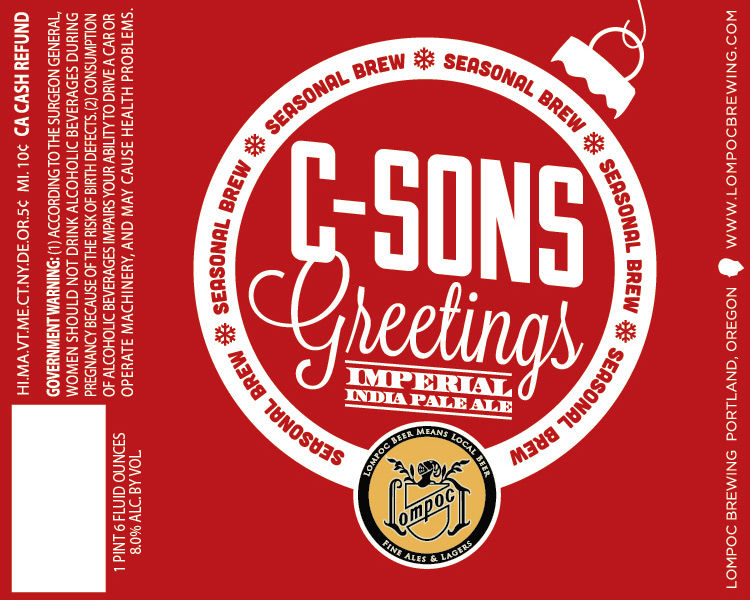 Blitzen: A bright straw colored holiday favorite that's dry hopped with Mandarina Bavaria hops, soursop puree and coriander. The hops and soursop combine for a citrusy aroma and flavor while the coriander gives a slight spice at the back end. 4.6% ABV
Brewdolph: A Belgian style red ale that features a malty and creamy body. Brewed with the Belgian Ardennes yeast strain, it boasts a mild fruitiness and a spicy clove character. 7.7% ABV
C-Sons Greetings Double IPA: A deep copper colored ale brewed and dry-hopped with all seven "C" hops for a piney, citrusy, floral and resinous aroma. Offers a full hop flavor with a rich caramel malt finish and an endless developing hop presence. 8% ABV
Lump of Coal: An Imperial porter fermented with and aged on sour cherries for six weeks in a stainless steel tank. Notes of chocolate and cherries permeate with hints of tobacco and leather leaving a tangy finish on the palate. 8% ABV
Old Tavern Rat 2016: A dark amber colored barleywine that was aged for a year prior to its release. It has a strong bitterness that is balanced with the sweetness of caramel and toffee flavors. 9.4% ABV
Port Barrel Aged Old Tavern Rat 2016: A dark amber colored barleywine that was aged in Maryhill Winery Port barrels for eight months. It has notes of oak, toasted raisin bread and dark cherry followed by blackberry and caramel. 9.4% ABV
Top Shelf, Old Sport: A Holiday Ale Festival exclusive! One sip of this rich, malty Belgian style dubbel and you'll find yourself transported to a padded Corinthian leather chair by a fireplace, perhaps discussing the day's business with your fellow club members. Quaffing from a snifter of this dark brown ale, you'll reminisce of Victorian-era aristocracy while enjoying strong notes of caramel, raisins, prunes, dates and oak. Aged for eight months in Maryhill Winery Cabernet Sauvignon barrels, the complex and robust yet delicate flavors of this ale compel you to take a sip, then nod and proclaim to your nearest chum, "Top shelf, old sport!" 7% ABV
About Lompoc Brewing
Lompoc (pronounced Lom-Pock) creates eight flavorful year-round beers, plus a ridiculous number of seasonals. You can find Lompoc in bottles, cans and on draft at locations throughout Oregon and Washington, and at its five Portland neighborhood pubs: Fifth Quadrant and Sidebar in North Portland, Hedge House and Oaks Bottom in Southeast, and the Lompoc Tavern in Northwest. Proudly brewed in #LompocOregon, a state of mind. For more information, visit LompocBrewing.com and get social @LompocBeer.