Like Clean Drinking Water? Then Help SweetWater Brewing Company Save the Hooch!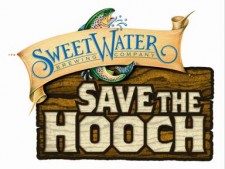 Annual Campaign with Upper Chattahoochee Riverkeeper Begins Memorial Day, May 31, 2010
Atlanta, GA – The most important ingredient in SweetWater's lip smackin' brews is water from the Chattahoochee River. With that in mind, SweetWater Brewing Company is getting ready to re-launch its annual Save the Hooch campaign, which has raised more than $150,000 to support Upper Chattahoochee Riverkeeper's river patrol and water quality monitoring programs since its inception in 2006. Save the Hooch 2010 begins at local bars and restaurants this summer on Memorial Day, May 31, and runs through July 4.
"The Save the Hooch campaign demonstrates that local business and citizens can step up to protect the vital natural resources that we all depend on," said Sally Bethea, Executive Director of Upper Chattahoochee Riverkeeper. "SweetWater's efforts have not only provided crucial funding for our water monitoring programs–they have also involved more people than ever before in protecting their river."
How can you get involved? Simply visit some of your favorite local watering holes and purchase paper fish for $1, $5 or $10, or a custom-made Save the Hooch t-shirt, to help raise awareness and much-needed cash for our river. Some of this year's participants are Taco Mac (last year's biggest fundraiser for the campaign), Marietta Pizza, and Williams Brothers Barbeque. To find a complete list of establishments involved in this effort and other ways to help, please visit www.savethehooch.com.
Upper Chattahoochee Riverkeeper will be celebrating the kick-off of the Save the Hooch Campaign at River Revival on Thursday, May 13 at Park Tavern. For more information on River Revival, go to www.chattahoochee.org/river-revival.php.
About SweetWater Brewing Company
SweetWater Brewing Company is an Atlanta-based craft brewery specializing in aggressive West Coast style beers. SweetWater's brews are unpasteurized and designed to be consumed fresh so distribution is limited to the Southeast. The award-winning line-up of year-round brews includes SweetWater 420, SweetWater IPA, SweetWater Blue and Georgia Brown. SweetWater also features a Catch and Release series of beers available on a limited basis throughout the year, and an experimental, one-time-only Dank Tank series. The SweetWater Brewery, open for tours every Wednesday, Thursday and Friday at 5:30 p.m. and Saturday at 2:30 p.m., is located at 195 Ottley Dr NE, Atlanta GA 30324. For more information about SweetWater Brewing Company, please visit www.sweetwaterbrew.com.
About Upper Chattahoochee Riverkeeper
Upper Chattahoochee Riverkeeper (UCR) is a nonprofit environmental group working to protect and preserve the Chattahoochee River, its tributaries and watershed, for the people, fish, and wildlife that depend upon it. Since 1994, UCR has stopped the flow of hundreds of millions of gallons of untreated sewage into the river system. As the drinking water supply for more than 3.5 million Georgians, the Chattahoochee is north Georgia's most important natural resource. With the support of its 4,500 members, UCR has stopped hundreds of illegal discharges into the river and its tributaries, removed tons of trash from local waterways, provided river education to tens of thousands of students, monitored and patrolled hundreds of miles of waterways, and forced local governments and industries to comply with clean water laws. For more information, visit www.chattahoochee.org.