Left Hand Brewing Raised Nearly 700k for Charity in 2015
(LONGMONT, CO)  – Left Hand Brewing Co. raised $687,440 for charity in 2015, through community outreach and events, with the support of dedicated volunteers and fans. As in previous years, Left Hand's community event series, High Five Events, and Team Left Hand's active stewardship for the National MS Society, continue to make a significant impact in the community. In November, the brewery was recognized as the 2015 Outstanding Small Business by National Philanthropy Day in Colorado. "Being active contributors to our community is who we are as a brewery and a passion of our employee-owners. With the help of our friends and neighbors, Left Hand is honored to give back over $1.8M since 2012." says Josh Goldberg, Community & Events Manager.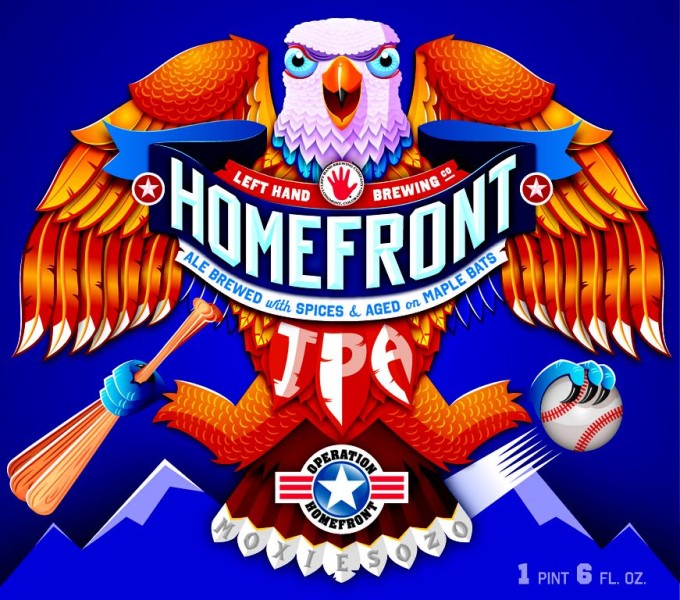 Events and promotions hosted by the Left Hand Foundation included:
Team Left Hand & Bike MS – $483,771
Bike MS is a two day / 150+ mile bike ride raising funds and awareness for the National Multiple Sclerosis Societywith rides throughout the country. Guided by Left Hand leadership, Team Left Hand Brewing is a growing team of 392 riders with state teams in Colorado, Florida, North Carolina / South Carolina, and Ohio. In their 8 years of riding, Team Left Hand raised a grand total of $1.5M since 2008 for the NMSS.
High Five Event Series – $121,000
Left Hand's High Five Events series hosted 21,000 attendees, showcasing craft beer in addition to live music, community celebration, snowboarding and more. All five events benefit for local and national organizations.

Hops+Handrails, Craft Beer Fest & Rail Jam
Culture Jam, Community Celebration
Leftapalooza, Mile High Tribute Band Competition
Longmont Oktoberfest, Top 10 Oktoberfest
Nitro Fest, America's Only Nitro Beer Fest
Total  $121,000
The funds raised at the 2015 High Five Events were donated to SOS Outreach, Intercambio Uniting Communities, Himalayan HealthCare, Leukemia & Lymphoma Society, St. Vrain Valley Education Foundation, The Inn Between of Longmont, and the Left Hand Brewing Foundation.
Homefront IPA – $25,432
Homefront IPA is a collaborative beer project produced by ten U.S. breweries to raise funds for Soldier's Angels – providing aid and comfort to the men and women of the United States Army, Marines, Navy, Air Force, Coast Guard, their families, and a growing veteran population. Left Hand's Homefront IPA raised $25,432 in 2015.
In addition to LHBC special events, Left Hand funded $57,237 in retail value of in-kind donations to local charities, bringing Left Hand's final community donation to $687,440 for 2015. Left Hand Brewing will continue to focus on their core value in 2016, to be a community minded organization.
###
About Left Hand Brewing Company
Celebrating twenty-two years of brewing a well-balanced portfolio of craft beers, Left Hand Brewing Company is located at 1265 Boston Avenue in Longmont, Colorado. Left Hand is one of the most honored and recognized breweries in the state, with over 27 Great American Beer Festival medals, 9 World Beer Cup awards, and 9 European Beer Star awards. Famous for their Nitro series, Left Hand Brewing was the first craft brewery to release a bottled nitrogenated beer. Left Hand's collection of perennial and seasonal beers are available in 35 states & DC.
Distribution: AL, AZ, CA, CO, CT, DC, FL, GA, IA, IL, IN, KS, KY, MA, MD, ME, MI, MO, MN, NC, NH, NJ, NM, NV, NY, OH, OK, PA, RI, SC, TN, TX, VA, VT, WA, WI
About Left Hand Brewing Foundation
Founded in Left Hand's 20th year, the Left Hand Brewing Foundation (LHBF) is committed to brewing a stronger community where we work, live and play. The LHBF affords Left Hand Brewing, in partnership with the Longmont Community Foundation, the opportunity to respond quickly and efficiently, with a directed act of support, for issues and emergencies important to the Longmont community and beyond.