Lawson's Finest Liquids Collabs with VPR on Brave Little State
(Waitsfield, VT) – Brave Little State, VPR's nationally recognized narrative journalism podcast, is getting its very own brew, thanks to a new collaboration with Lawson's Finest Liquids. Brewed with barley, wheat and hops sourced from the Green Mountain State, sales of Brave Little State Pale Ale will benefit public media and independent journalism throughout the region. The beer will be available year-round at Lawson's Finest retailers and on-tap only in the state of Vermont.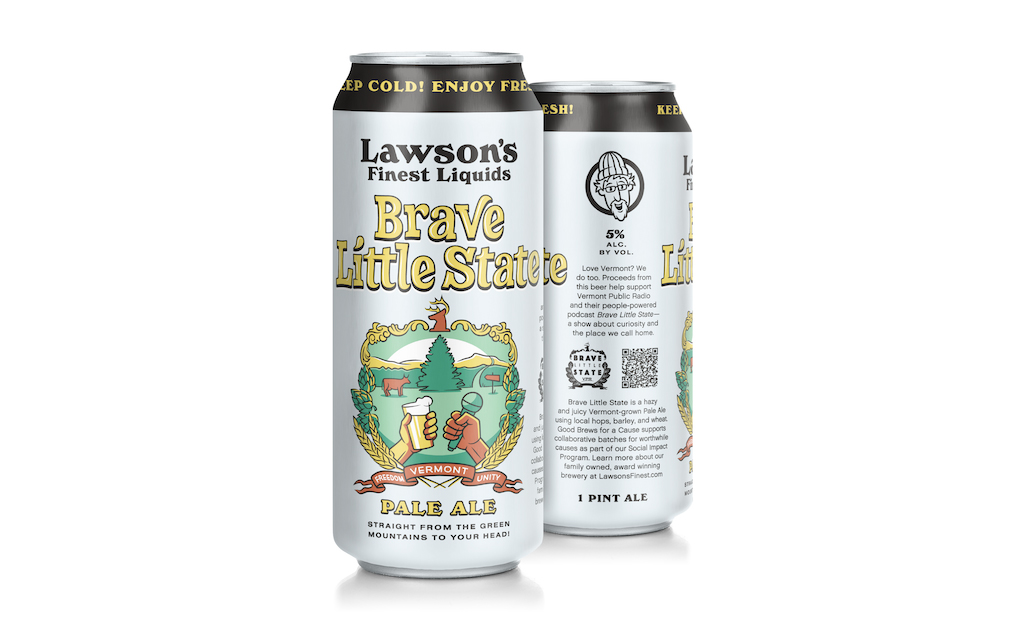 As part of Lawson's Finest's Social Impact Program (SIP), specifically the Good Brews for a Cause initiative, a portion of all proceeds from sales of Brave Little State will be donated to furthering VPR's mission, including Brave Little State. The beer's namesake is a bi-monthly podcast focused on listener-driven stories that answer questions from the public, voted on by the audience.
"As a longtime fan of Lawson's Finest Liquids, I'm honored and delighted to be part of this collaboration," said Angela Evancie, the creator and executive producer of Brave Little State. "From my very first conversation with Sean Lawson, it was clear that there's a natural resonance between the ethos of Lawson's Finest and Brave Little State: We're both deeply rooted in Vermont and invested in our state's future. We seek to foster community and a positive experience for all who encounter our work — and have fun while we're at it. I can't wait to connect with new listeners who discover our show while enjoying Brave Little State Pale Ale, nor can I wait to introduce our audience to this delicious beer."
Together, Lawson's Finest, VPR and Brave Little State aim to expand awareness and support of these important stories.
"Brave Little State Pale Ale  is a Vermont-grown beer that represents the values of both Lawson's Finest Liquids and Vermont Public Radio. It's a hazy and juicy pale ale with a soft mouthfeel, bountiful aromas of melon and berries, and an approachable 5% ABV. We're glad to introduce a year-round brew made with local ingredients that embodies the incredible spirit and essence of the Green Mountain State and VPR," says Sean Lawson founder and CEO of Lawson's Finest. "It's thanks to community-driven efforts like this collaboration that innovative programming like Brave Little State and independent journalism continue to thrive."
The beer will be available in cans and on draft starting December 15th at the Lawson's Finest Taproom in Waitsfield, VT. Year-round distribution will reach retail stores statewide and be available on tap at select locations.
To learn more about the Lawson's Finest Social Impact Program (SIP), including Good Brews for a Cause, click here.
For more information about Brave Little State and VPR, click here.
About Brave Little State
Brave Little State is VPR's people-powered narrative journalism podcast for Vermonters and Vermonters-at-heart. The program, which has won national awards for its work, answers questions about the state that have been asked and selected by the audience, and brings listeners along in its reporting. The show's people-powered process has resulted in stories that run the gamut, with no topic too frivolous or too serious — from the origins of the Vermont accent to Vermonters' racial reckoning, from aging sewer systems to aging hippies. For more information about Brave Little State, visit www.bravelittlestate.org and follow the show on Instagram and Twitter (@bravestatevt).
ABOUT LAWSON'S FINEST LIQUIDS
Based in Waitsfield, Vermont, Lawson's Finest Liquids crafts exceptionally fresh, high-quality, flavorful beers. The brewery is a values-driven business with a commitment to excellence, innovation, sustainability and fun – supporting healthy, vibrant communities through our Social Impact Program. Founded in 2008 by Sean and Karen Lawson, the company boasts a growing collection of expertly-crafted brews, including the renowned Sip of Sunshine IPA. Beginning as a highly-acclaimed, small-batch brewery, Lawson's Finest has grown to distribution across nine states in the Northeastern United States. In 2018, Lawson's Finest opened its doors to the public, welcoming fans to a popular destination brewery, taproom and retail location in central Vermont's Mad River Valley. For more information on Lawson's Finest Liquids, please visit www.lawsonsfinest.com or follow the company on Instagram (@lawsonsfinest) and Facebook (@lawsonsfinestliquids).