Knee Deep Brewing Now Distributed by DBI Beverage Sacramento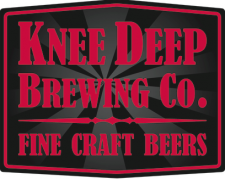 (Auburn,CA) – Monday, October 20th, was the first day Knee Deep Brewing Company was officially distributed by DBI Beverage Sacramento. Knee Deep, founded in June 2010 by Brewmaster Jeremy Warren, began as a contract brewery in the Lake Tahoe area. A meeting of the minds between Warren and now-CEO Jerry Moore spurred development leading to a full-time brewing operation in Lincoln, CA by mid 2011. A larger and modern brewery followed in Auburn, California earlier this year. The brewery has produced over 40 different beers, including a 2013 Great American Beer Festival silver medalist, Belgo Hoptologist.
The Knee Deep Brewing Company and DBI Beverage Sacramento partnership will bring this highly-acclaimed portfolio to a wider audience in the Sacramento region. Jerry Moore, CEO, stated, "This is the final step in the reorganization of our distribution network in Northern California. All of us at Knee Deep look forward to working with the professionals at DBI. John Janosko, VP/GM of DBI Beverage Sacramento, adds, "Really happy to be working with the team at Knee Deep, not only do they make great beers, they are our friends. We are looking for and expect big things."
Knee Deep Brewing Company produces premium craft beers known for their distinct hop character, including flagship Hoptologist Double IPA and Simtra triple IPA, Citra Extra Pale Ale, Hoparillo 3X IPA, as well as a variety of other outstanding beers. DBI Beverage Sacramento is the largest craft beer distributor in Northern California.