Kern River Brewing Hop Project: White IPA Release This Weekend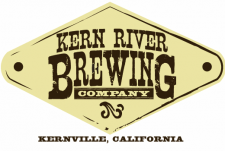 (Kernville,CA) – We just finished a 7 bbl test batch of White IPA with Amarillo and Experimental Hops from Hopsteiner.  It will be on draft at the brewery starting Saturday, March 29th.    Very pale in color and a little cloudy,  this beer weighs in at 7.2% abv and 80 IBU.  I'm have a glass in front of me right now and will do my best to describe it to you through the interweb.
The aroma starts with a big wave of hops.  I'm not sure if it is piney, fruity, spicey or earthy.  It is 9 am and I just had eggs, so whatever.  The first sip is definitely hop forward, but as you swirl it around your tongue you get a hint of hops and then a lingering, pleasant hop bitterness.  I think I would characterize this as a Kern River White IPA; made for people that like hops.  How's that for informative.  Come on by and check it out for yourself to form your own opinion.
Also tonight we have Lonely Avenue playing.  If you haven't heard them, then you have not heard their soulful versions of Raspberry Barret, Pumped up Kicks and whatever other version of some hip song that every one in the brewery under 25 knows and I have never heard of.  Really, they are a ton of fun; do yourself a favor and come by tonight for some good beer and good tunes.
We have more events and news on the horizon, including a batch of really dirty hippie and a new (used) fermenter coming on line with some brand spankin' new brews.  We'll keep you posted!