Just Beer to Release IPA After 12 Year Wait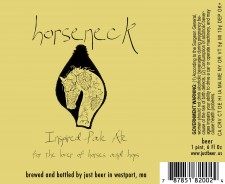 Just Beer (at Buzzards Bay Brewing) Is Set to Release an IPA from the 2009 Harvest at Segal Ranch in Grand View, Washington.
Just Beer (at Buzzards Bay Brewing) releases our first IPA in over 12 years of brewing. "All things have a season," quips brewer and owner Bill Russell, "And the season of IPA has finally arrived at Just Beer." The new brew is touted as being "a lovely beer with glorious moves. Hopped with only hops from the 2009 harvest at Segal Ranch in Grandview, Washington. We want to present the terroir, the natural flavor and aroma of our friend's farm, in this brew." Terroir is a wine-world idea that one can smell and taste the earth, the season and the community that grows a particular wine. And Russell is

the perfect man to use it in beer as he (also the winemaker at next door Westport Rivers Winery) has been exploring the terroir of Westport for almost 22 seasons. "I think that the terroir of the hop is truly worth exploring. Cascades, the hop of Horseneck Golden IPA, is very well known in American brewing. But Just Beer is the only brewery pursuing a multi-year exploration of it's aroma and flavor from a single grower: our friends at Segal Ranch. To understand Horseneck Golden and what the Segal family grows, requires a multi-year exploration. I'm already looking forwards to the 2010 harvest."
Meanwhile back at the ranch, the 2009 growing season's Horseneck Golden IPA will release Friday. The release party is Friday night (6-ish, oh we don't really know. when we get there after work!) at the Pour Farm Tavern in New Bedford.