Jester King Welcomes De Garde Brewing Despite TABC Drama
(Austin, TX) – We're very excited to announce that this Saturday, April 22nd at Noon at Jester King is the Texas debut of De Garde Brewing in Tillamook, Oregon! De Garde is one of our favorite breweries in the world and does a spectacular job at making spontaneously fermented beers that reflect the unique microflora of coastal Oregon. The philosophical kinship we share with them is very great, and we consider them an inspiration. We have much, much respect for De Garde, count Linsey and Trevor Rogers as close friends, and are honored to have their beer at our tasting room.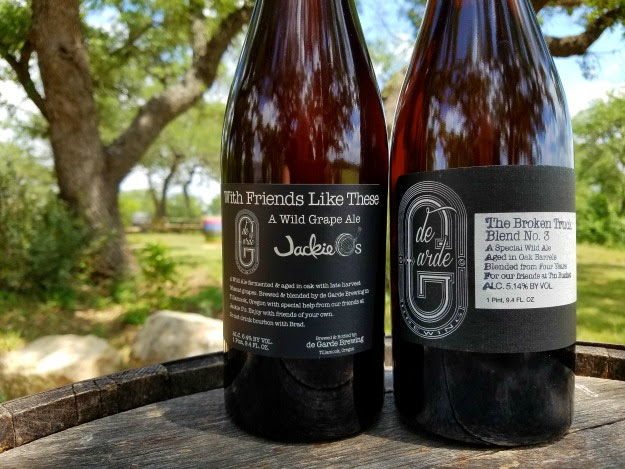 We'll have two De Garde beers available when we open on Saturday:
With Friends Like These — 6.4% abv / Collaboration with Jackie O's Brewery Athens, Ohio
Foeder fermented golden wild ale, refermented on late harvest Muscat grapes and conditioned with wild yeast and bacteria from Jackie O's.
The Broken Truck 5% abv
Named after their "cursed old brewery truck" known to constantly break down, this wild ale is a blend of three different years from their Lambic inspired barrels.
With Friends Like These will be available both in bottles to go ($15/bottle, 750ml, ~500 bottles, limit 1) and by the glass ($4/4oz and $6/8oz). The Broken Truck will only be available by the glass in 4oz. pours (~425 pours available, limit 2 pours per customer).
We're also thrilled to have Trevor Rogers, founder of De Garde, onsite at our tasting room on Saturday at Noon!
On a less positive note, this Saturday's lineup was supposed to also include the release of Elements of Composition — our collaboration with De Garde and Sante Adairius Rustic Ales. Sadly, the Texas Alcoholic Beverage Commission (TABC) has not approved this beer for Texas. TABC's position is that an out of state brewery licensed in Texas cannot collaborate with a Texas brewpub. They consider such a collaboration a violation of the three tier system. Jester King is officially licensed as a brewpub in Texas and is considered a retailer. De Garde is considered a manufacturer. Thus, TABC believes a three tier violation exists.
Our position is that a collaboration is creative meeting of the minds, and that the State does not have the power to quash such artistic expression. We believe it is unconstitutional for the State to censor us from telling our customers truthful and factual information about how a beer was made. Ultimately, we believe the First Amendment of the U.S. Constitution will win the day, and we'll eventually be able to get State approval for collaborations with out of state breweries licensed in Texas. We will do everything in our power to fight TABC over this matter, and are prepared to go to court to protect our First Amendment rights.
Regardless, we won't let this impending battle with TABC over collaborations damper the occasion! De Garde in Texas is a beautiful thing, and we'll have great reason to celebrate this Saturday. We hope you'll join us Saturday to mark this momentous occasion for craft beer in Texas!
Cheers,
Jeffrey Stuffings
Founder
Jester King Brewery