Jester King & Prairie Artisan Ales Natural Union Release Info
(Austin,TX) – We're very excited to announce that, when our tasting room opens at 4pm on Friday, January 16th, we'll be debuting Natural Union — our collaboration with Prairie Artisan Ales! We've long felt a strong kinship with Prairie because of their commitment to artisan brewing principles, their geographical closeness, their quirky, amazingly clever artwork, and the fact that they're genuinely good people. Having Chase Healey of Prairie come to Jester King back in August of 2014 to make a beer with us was a great honor and a lot of fun. We're so pleased to share the results of our collaborative effort!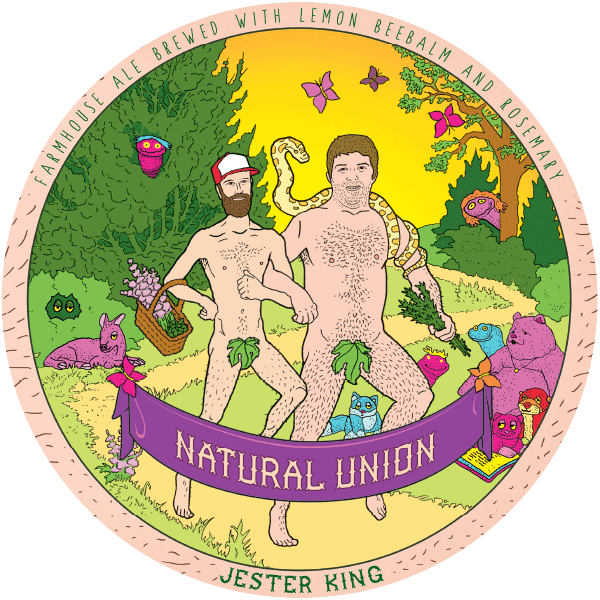 Our motivation behind the beer was to highlight our similar brewing philosophies, which incorporate locally sourced ingredients and mixed culture fermentation. Chase brought rosemary grown in a garden near his Oklahoma brewery to Jester King, and Jester King Head Brewer Garrett Crowell picked lemon bee-balm growing in a pasture near the brewery for the beer. These two ingredients, native to our respective locations, were added to the boil, along with a healthy dose of Nelson Sauvin hops. The wort was then fermented in oak barrels for three months with Jester King's unique mixed culture of microorganisms consisting of brewer's yeast and native yeast and bacteria cultured from the air and wildflowers around the brewery.
Natural Union was brewed with Hill Country well water, malted barely, Texas-grown raw wheat, raw sugar, hops, rosemary, and lemon bee-balm, and fermented in oak barrels with Jester King's mixed culture, as described above. It is 7.1% alcohol by volume, 42 IBU, and has a finishing gravity of 1.002 (0.5 degrees Plato). The label art for Natural Union, which pictures Garrett Crowell with a basket of lemon bee-balm and Chase Healey with a handful of rosemary, was a collaborative effort between Colin Healey of Prairie and Josh Cockrell of Jester King. 
We're excited that Chase Healey himself will be joining us at Jester King on Saturday, January 17th to celebrate the release! It will be a very special Saturday for us, because in addition to Chase, we'll also be joined at Jester King by Jeppe Jarnit-Bjergsø of Evil Twin Brewing for the release of World's Worst Twin the very same day. Having two truly world-class brewers onsite at Jester King for the release of their two respective collaboration beers is a wonderful thrill and honor for us. 
Natural Union will be available by the glass and in bottles to go (750ml, $14) at Jester King starting at 4pm on Friday, January 16th. Only about 900 bottles will be available, which will be sold exclusively at Jester King with a bottle limit of one per customer per day. Natural Union glassware, pictured below, will also be available for purchase at the release. 
While Chase and Jeppe are in Texas, we have some special events planned. We'll be doing a six-course Prairie/Evil Twin/Jester King beer dinner at Hot Joy in San Antonio at 6pm on Sunday, January 18th! The dinner will feature pairings with Natural Union, World's Worst Twin, Jester King Colour Five and Figlet, as well as some very special, rare beers from Evil Twin and Prairie. The beer dinner is $85 per person, and reservations can be made by e-mailing [email protected] with the subject line "Beer Dinner." We'll also have a special coffee, beer, tea, and pastry pairing at 10:30am on Sunday, January 18th at Wright Bros. Brew & Brew in Austin. Tickets go on sale Monday, January 12th at noon and can be purchased HERE.