Baird/Ishii/Stone Japanese Green Tea IPA Returns Monday
(Escondido,CA) – There have been many Stone Collaborations that have come and gone over the years since the series started in 2008. While each one had soul, some where bigger hits than others.  One beer that struck a chord with craft beer fanatics was the Baird/Ishii/Stone Japanese Green Tea IPA.  I recall working a Stone Tap Takeover at the legendary Naja's Place in Redondo Beach,CA back in 2011, in which I helped from behind the bar. We had every Stone beer you could think of on tap that evening, and most everyone kept coming back for more Green Tea IPA.  I had no idea until that moment exactly how popular that beer was. For you lovers of that beer, you will be happy to know it will be returning this week.  Here are the preliminary facts, stay tuned Monday for press release and intro video. Cheers!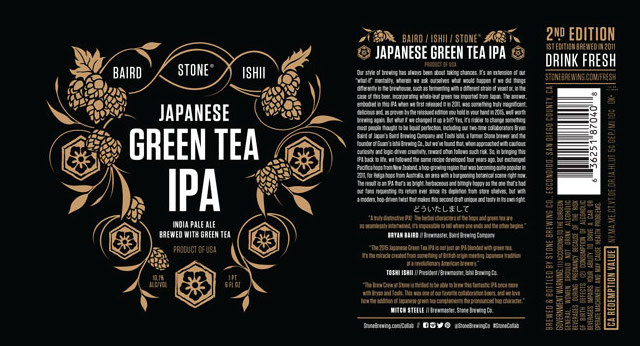 Distribution:
AK, AL, AZ, CA, CO, CT, DC, DE, FL, GA, IA, ID, IL, IN, KS, KY, LA, MA, MD, ME, MI, MN, MO, MT, NC, NE, NH, NJ, NM, NV, NY, OH, OR, PA, RI, SC, TN, TX, VA, VT, WA and Puerto Rico
Formats: 22 oz. bottle (original batch was 12 oz. bottles), 1/6 bbl keg and 1/2 bbl keg.